Church Farm Services, the father and son provide whole-farm contracting, covering a large area from Heathrow to Dover, using a fleet of Krone machinery.
The Fullers officially started the contracting side of the family-run mixed enterprise in 2010, after taking on ad-hoc straw cutting and baling, in addition to managing the farm and livery business since the 90s.
Dating back more than 100 years, the farm now comprises of a 250-head Longhorn suckler beef herd produced for Pasture for Life and 1,800 acres of low-input grassland for homegrown forage, with anything leftover sold as hay into the equine market.
The Fullers run five Krone machines:
Two fourth generation BiG Pack HDP 1290 square balers
One BiG Pack 890 square baler

One Swadro TC 1370 four-rotor rake

One Swadro TC 930 twin-rotor rake
Already running an Krone BiG Pack 890, the farm bought a Massey Ferguson baler to run as a second baler, but traded it in after a season for a BiG Pack HDP 1290 after a successful demo from Haynes in Uckfield.
Oliver remembers using the BiG Pack baler at a speed of around 26kmph during a second cut of silage in 2022. Despite the speed and poor weather conditions, the baler took on haylage and wet grass in its stride, leaving nothing behind.
After running Krone machines for a few years and taking on more contracting work, the Fullers added a second 1290 baler to the fleet in 2023. However, they still find the smaller 980 just as useful for the average customer, seeking a good, weighty bale.
In the past, the pair has found it can be difficult to achieve both good bale weights, at a good speed, but believe Krone kit makes it possible.
They find it useful to be able to change everything from the cab, including bale lengths, which is handy when having to swap and change crops often.
The Fullers have also found the blowing systems are efficient at keeping the machines clean – rarely having encountered any problems.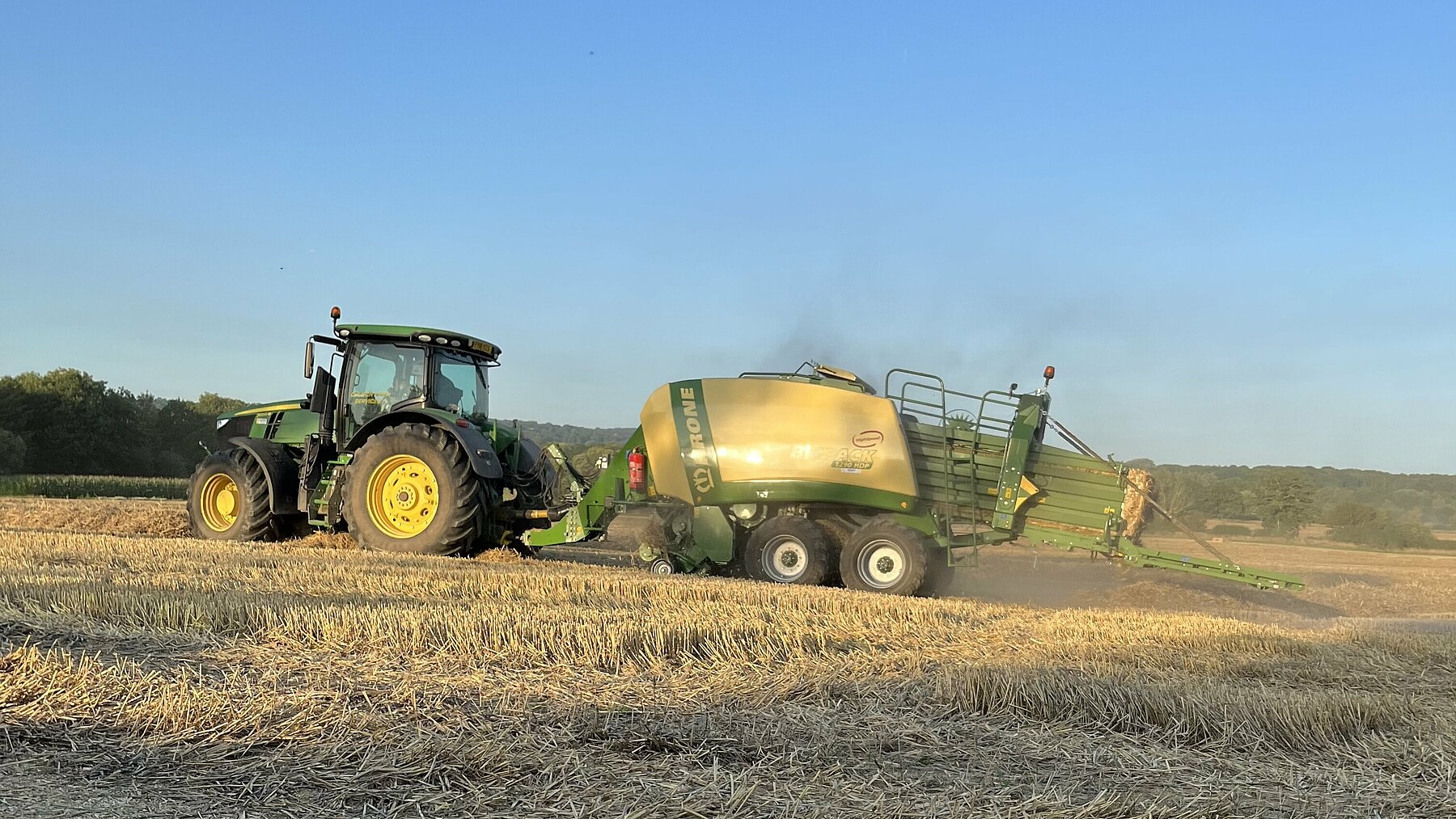 Nick and Oliver have a great relationship with their local Kent-based Krone dealer, Haynes, and find the back-up support from them is brilliant.
Parts are delivered swiftly when needed – next day, even from across the continent.
Forage making takes up a substantial part of the contracting side of the business.
Nick and Oliver recently expanded into chopping 4,000 acres of maize for a local AD plant, on top of cutting around 3,500-4,000 acres of grass, and bale between 15,000-30,000 bales per year of straw.
For this, productivity is key, and they have found the speed and output quality of their Krone balers to be a fantastic asset to their business.