Side-mounted mowers offering huge up/down travel
Coil springs optimising the ground pressure and adjusting without tools
Pto-shaft driveline for frictional connections
Robust and fully welded cutterbar without inner shoe
Quick-change blades
SafeCut: Individually protected discs
SmartCut: Stripeless cuts thanks to optimum blade overlaps
Compact in transport as the mower inclines to the middle of the tractor for optimum weight distribution and visibility
KRONE disc mowers
Robust and fully welded cutterbar without inner shoe
SmartCut: Stripeless swath thanks to optimum blade overlaps
Quick-change blades: Standard
SafeCut: Impact protection for each individual disc
Side-mounted mowers offering huge up/down travel
Frictional drive via universal shafts and gearboxes
Optimum ground pressure via tension springs adjustable without tools
Compact in transport as the mower unit inclines to the middle of the tractor for optimum weight distribution and visibility
Mowing like a professional – the ­KRONE ActiveMow makes it possible at last. Perfect cutting quality ensures premium-quality forage, easy handling combined with compact and robust design guarantee maximum comfort and a long service life. The ­KRONE ActiveMow mower is the guarantor for successful forage harvesting.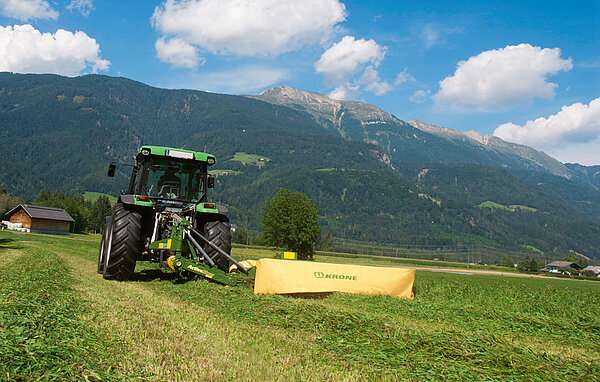 The KRONE cutterbar
Fully welded: Robust, sealed and permanently lubricated
Long-lasting satellite drive with massive spur gears: quiet running and top efficiency
No inner shoe for trouble-free cutting
The enclosed and fully welded cutterbar meets the highest quality standards and operates dependably and leak-free over many years of hard work. Massive and oil-immersed spur gears impress by very quiet and reliable running in sustained peak-load operation.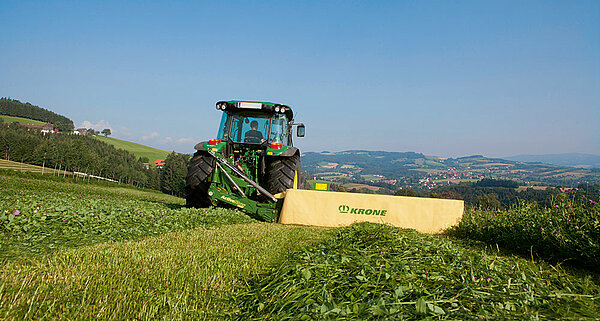 KRONE SmartCut
SmartCut for stripeless cuts
The wedge-shaped cutterbar guarantees clean cuts
Heavy-duty spur gears run in widely-spaced double bearings
Swathing or spreading
The wedge-shaped cutterbar offers many different setting options that allow you to make short cuts in meadows and pastures and higher cuts in long-stemmed forage crops. An ActiveMow mower delivers a reliable performance and clean cut.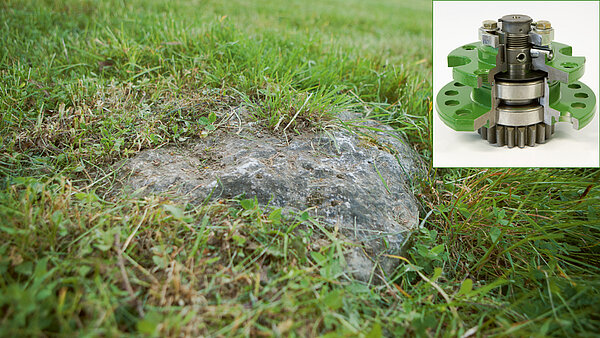 The KRONE SafeCut-System
Full driveline protection
No collision with neighbouring cutting discs
Wear-free
Quick-change roll pins for minimum costs
You know it too well – foreign objects can cause great damage and costly repairs. ­KRONE SafeCut offers a maximum of protection and peace of mind. The system which comes as standard specification offers a unique level of disc protection and functionality.
Tractor attachment and drives
Tractor attachment with three-point headstock

Large travel range for superior performance in mountainous terrain

Direct and frictional driveline ensures no power is lost

Working a full width by refitting pin on the link arms
The side-mounted linkage is compact, low in weight and gives the mower large up/down travel. The ActiveMow mowers follow any ground contours and have proven absolutely well in mountain applications.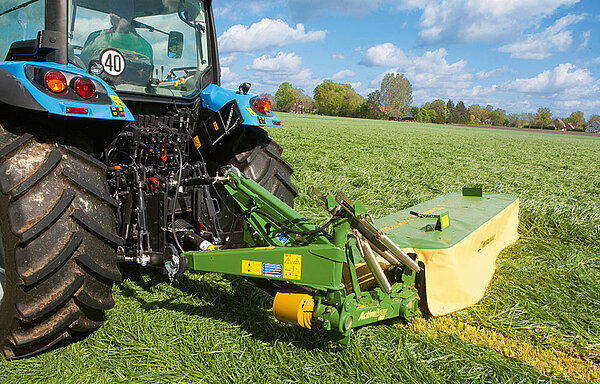 The ­KRONE mower relief
Coil springs provide the cutterbar suspension, optimise the ground pressure and ensure uniform cuts
The springs are conveniently adjusted by resetting pins
Extremely responsive for top contouring
Manually adjusted, the ActiveMow suspension springs rapidly adapt the ground pressure for the machine to produce perfect cuts in undulating terrain and at high work rates and as a result of this clean and high-quality forage as well as a fast and uniform re-growth.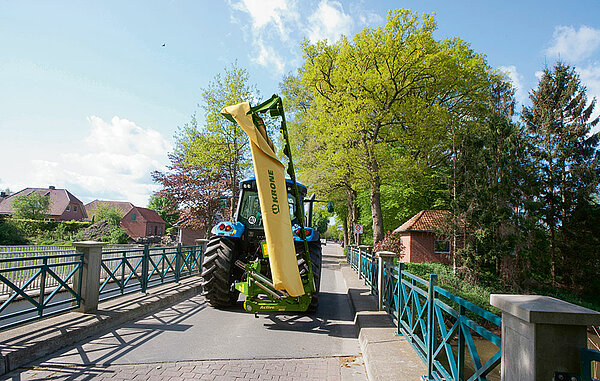 Transport und parking position
100° transport position for safe travel on public roads and clear view behind
Compact configuration for fast travel
Stored on stands and in vertical position for minimum storage space
Lower links are not raised during the headland turn
KRONE disc mowers offer a wide range of practical solutions that make your work easier andmore efficient. These include the 100° transport position for a uniform weight distribution and excellent visibility during transport and the optional vertical position for storage.