Quick-change blades
SafeCut: Individually protected discs
SmartCut: Stripeless cuts from optimum blade overlaps
DuoGrip: The centre-of-gravity suspension system with dual grip control
Optimum ground pressure control by means of responsive and adjustable springs
Available conditioner versions: CV conditioner with V-type steel tines, CR conditioner with rubber rollers or M-Rolls
Compact in transport as the mower tilts to the middle of the tractor – for optimum weight distribution and visibility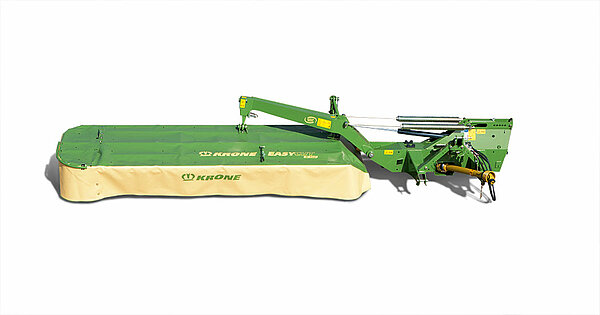 Rugged and easy use, tried and tested around the world
Quick-change blades
SafeCut: Individually protected discs
SmartCut: Stripeless cuts from optimum blade overlaps
DuoGrip: The centre-of-gravity suspension system with dual grip control
Optimum ground pressure control by means of responsive and adjustable springs
Available conditioner versions: CV conditioner with V-type steel tines, CR conditioner with rubber rollers or M-Rolls
Compact in transport as the mower tilts to the middle of the tractor – for optimum weight distribution and visibility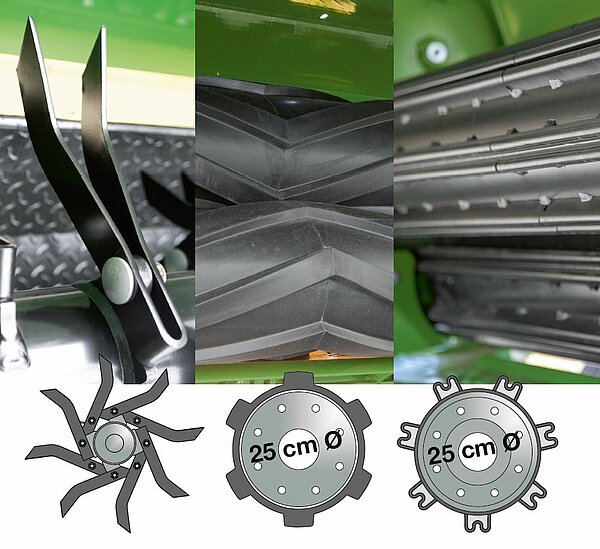 The EasyCut R rear mowers
Without conditioner
2.73 m to 4.04 m work widths
DuoGrip centre-of-gravity suspension
Over-centre transport position reduces
transport height
Very responsive spring suspension

With conditioner
2.7 m to 3.2 m work widths
Front-mounted mowers with tine/roller ­conditioners (rubber rollers or M-Rolls)
DuoGrip centre-of-gravity suspension
Over-centre transport position reduces ­transport height


The cutterbar features a host of smart details like the SafeCut disc protection system or the SmartCut blades with optimum overlaps. EasyCut R – the professional machine for farmers and contractors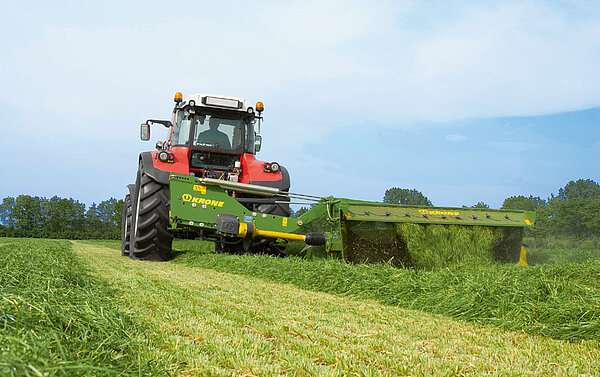 The KRONE cutterbar
Fully welded: Robust, sealed and permanently lubricated
The durable satellite drives have massive spur gears for quiet running and superior efficiency
No inner shoe for trouble-free cutting
The enclosed and fully welded cutterbar meets the highest quality standards and operates dependably and leak-free over many years of hard work. Massive and oil-immersed spur gears impress by very quiet and reliable running in sustained peak-load operation.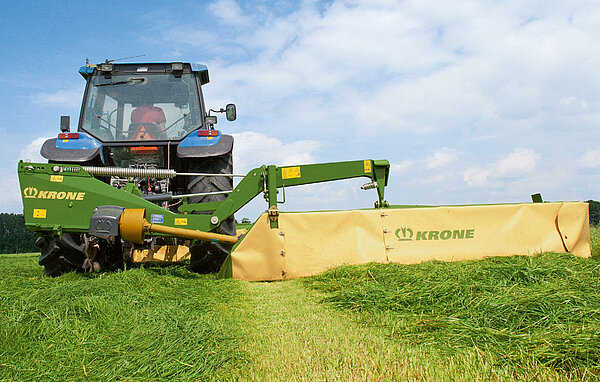 KRONE SmartCut for a perfect spread
The wedge-shaped cutterbar guarantees clean cuts
Heavy-duty spur gears run in widely-spaced double bearings
Swathing or spreading depending on needs
The wedge-shaped cutterbar offers great flexibility to adjust through a large range of settings and leave a short stubble in meadows and pastures as well as long stubble in long-stemmed field crops. An EasyCut mower delivers a reliable performance and clean cut.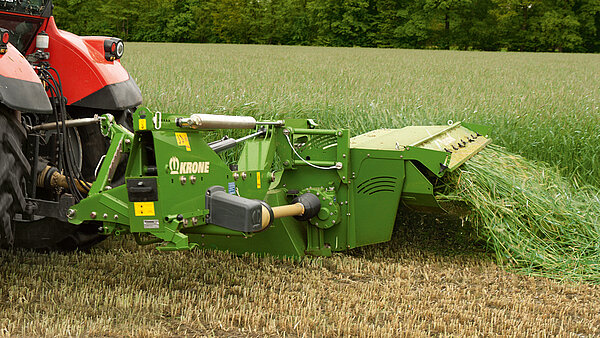 The KRONE quick-change blade system
Quick-change blades allow operators to swap blades in the field quickly
Modular disc design
Minimum blade wear: 360° blade action
Excellent cuts from KRONE SmartCut: Optimum blade overlap
There are many reasons for choosing an EasyCut disc mower. Just think of the quick-change blades, the inexpensive wear parts and the perfect disc arrangement for stripeless cuts.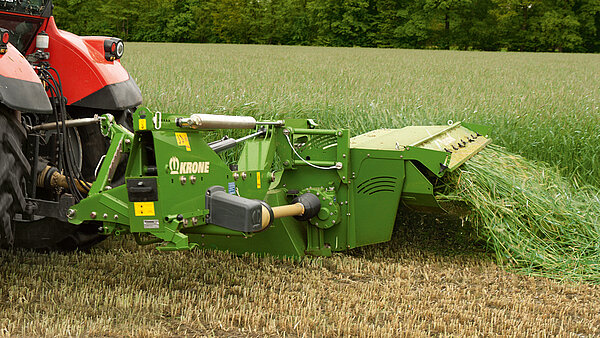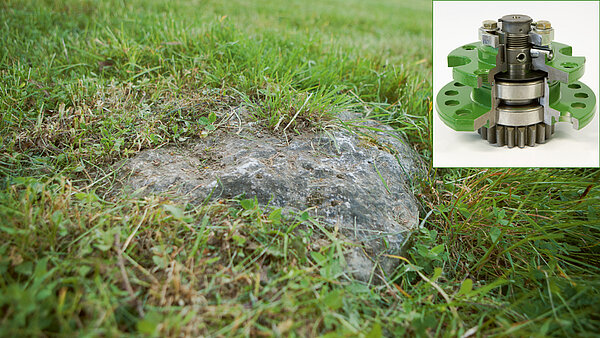 The KRONE SafeCut system
Full driveline protection for added reliability
Neighbouring discs will not collide
Wear-free
Quick-change roll pins for minimum downtime and costs
Colliding discs may cause damage and involve costly repairs. KRONE SafeCut offers a maximum of protection and peace of mind. The award winning system on all EasyCut models offers a unique level of protection and operator comfort. SafeCut is a base specification feature on all EasyCut F models.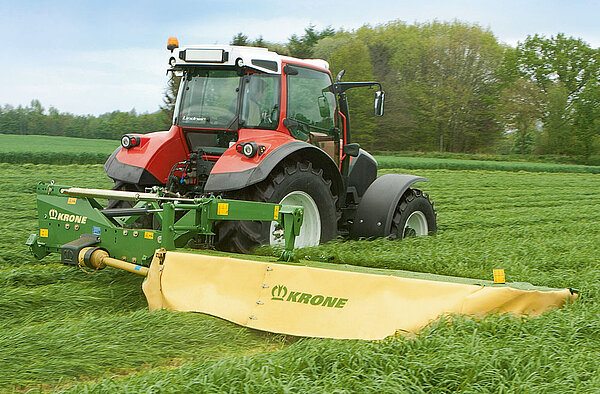 The KRONE DuoGrip centre-of-gravity suspension
The DuoGrip system – centre-of-gravity suspension and linkage control
Uniform ground pressure across the entire work width
Excellent guidance: less side thrust, clean cuts
Short and high-strength beam
A clean cut is fundamental for clean forage. Clean cuts are attributed to the special design of the cutterbar and the special suspension. The special KRONE DuoGrip suspension system suspends the disc mower in its centre of gravity and provides lateral guidance at the same time. Maintaining a consistent ground pressure across the full work width, the design leads to cleanest cuts on the one hand and light pulling and optimum lateral control on the other.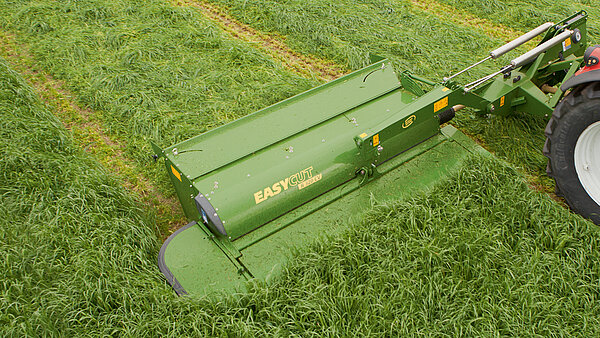 The KRONE cutter suspension system
Suspension springs with central control ensure uniform cuts and an optimum ground pressure
Ground pressure control without tools
Hydraulic ground pressure control is an option
Two-fold impact damage protection
The hydraulic and the mechanical suspension springs are extremely responsive and provide perfect cuts even in undulating terrain and at high forward speeds. This is the first step in making clean and high-quality forage and a requirement for a fast and uniform re-growth. The kinematics between the coil spring and the main beam maintain a nearly consistent ground pressure, even in undulating terrain.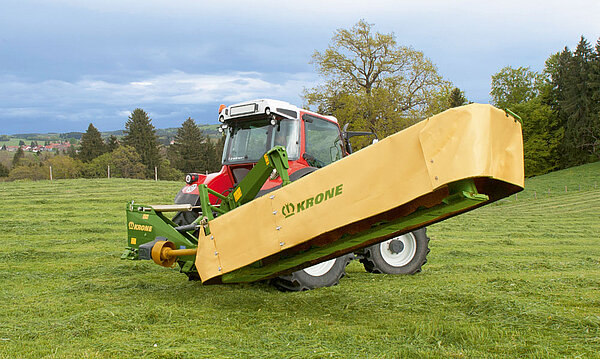 Work position and transport position
The unit folds into an over-centre position, reducing the transport height and optimising the weight distribution and view to the rear
The unit is lifted hydraulically and without raising the tractor links to make the headland turn
Large suspension travel
Implementing a large work width on a mower poses a special challenge to the designers who have to reconcile demands for high work rates with those for good transport and contouring qualities. The solutions are reflected by the KRONE Z-form, the low pivot point, the over-centre transport position and the headland position that does not require operating the tractor's link arms. KRONE disc mowers offer safe travel and best cuts even in difficult conditions.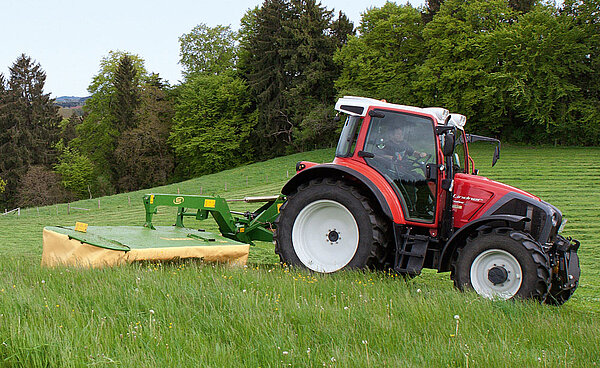 EasyCut R 280 and R 320: Driveline and suspension
Manual or hydraulic ground pressure control
Low-maintenance, frictional drive; no belts
KRONE SafeCut cutterbar protection is a standard feature
Cantilevered guard frame ensures smooth crop flow
Looking for a high-capacity mower that works at widths of about 3.00 m? Then the KRONE EasyCut R 280 and R 320 with DuoGrip disc mowers are for you. These machines are packed with innovative features such as the DuoGrip centre-of-gravity suspension with manual or hydraulic suspension control, the unique auto-reset system and the optimized cutterbar for stripeless cuts.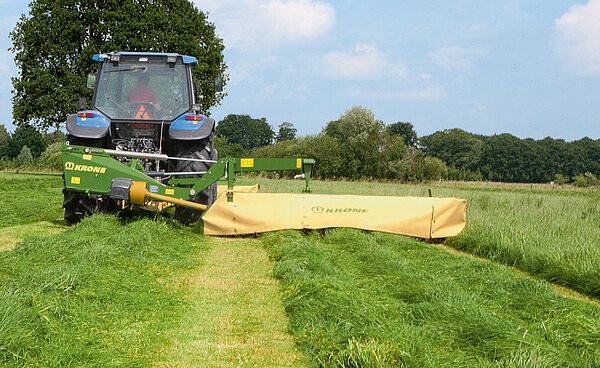 EasyCut R 280 and R 320: Transport, service and maintenance
Only one double-acting spool required to operate the folding mechanism
The mower inclines to the middle of the tractor for convenient travel between fields
Folded to 110° on the optional stands, the mower requires only minimum storage space
Impact damage protection by rear and upward travel
At home and abroad, KRONE disc mowers perform successfully in many different countries and conditions, where developers gain new insights and in-field experiences implementing these into the development of EasyCut. For example, the EasyCut R models can be stored in vertical position to save space in the machine shed. This is just one of many practical details on the KRONE disc mowers that save time and hassle.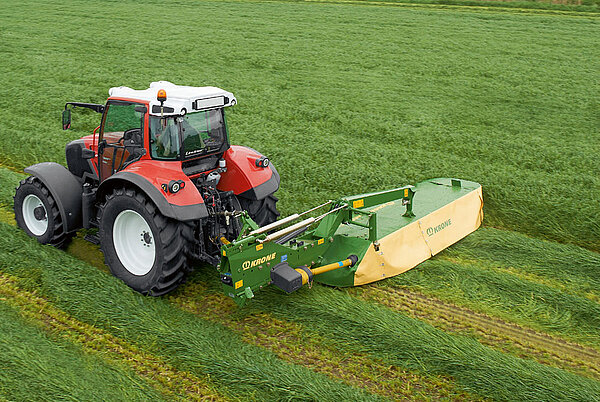 EasyCut R 360 and R 400: Tractor attachment and suspension
3.60 m or 4.04 m working width
Forming two swaths or spreading the material
Hydraulic cutterbar suspension is available as an option
Excellent value for money
The high-capacity EasyCut R 360 and R 400 mowers are mounted machines that score on enormous work rates and productivity, performing equally well in forage harvesting and field extensification.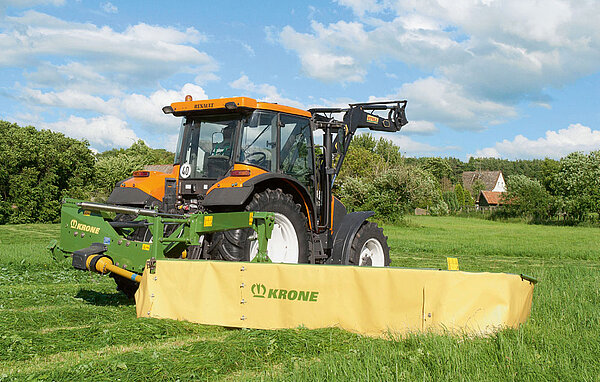 EasyCut R 360 and R 400: Transport and swathing modes
Low tractor input
DuoGrip centre-of-gravity suspension and arm guidance
Mechanical break-back system
SafeCut Shear-bolt protection on each individual disc
The EasyCut R 360 and 400 models offer the specification and operator comfort you deserve: excellent value for money, high acreage at low power input, centre-of-gravity suspension, the innovative SafeCut disc protection system, a compact transport position, straightforward operation and convenient handling. All these details are benchmark features on a machine of this size. Depending on specification and disc rotation, they spread or windrow the crop into two equal swaths.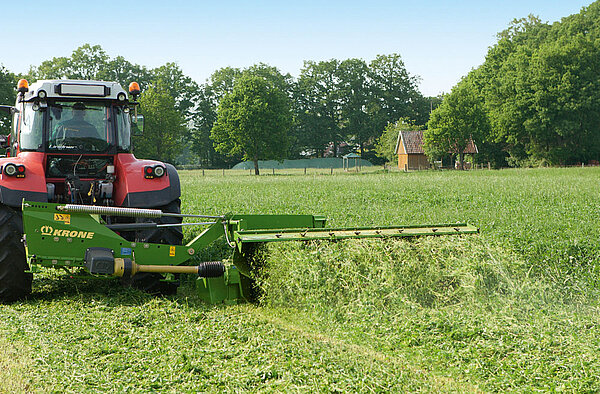 EasyCut R 280 CV and R 320 CV: The tine conditioner models
Easy and quick operation
Optional wide spreading crop deflectors
Infinitely variable windrow width
Mechanical gearbox, variable intensity conditioning
The KRONE CV rotor with V-shaped and grippy steel tines spreads the crop at the full working width. Its massive 64 cm (2'1") diameter and the helical arrangement of the tines warrant a continuous crop flow, high throughputs and superior conditioning.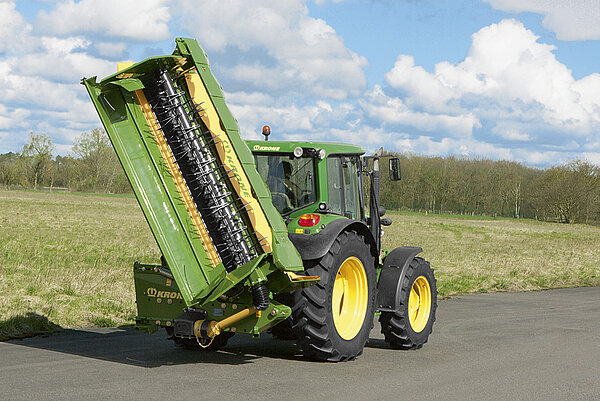 EasyCut R 280 / 320 CV and R 280 / 320 CR
Safe road travel with the mower folded to a 124-deg. angle
Stored on stands and in vertical position for minimum storage space
Side-shifting headstock for optimum configuration
Durable curtains with rubber bumper strips
KRONE is aware of farmers' needs and delivers the technology they need in order to maximize profits. The EasyCut R 280 CV / CR and R 320 CV / CR mowers are always the best choice, offering the options of shifting the headstock and moving the unit into a 124deg. transport position for an even weight distribution and good visibility on the road.

Accessories - Safe travel
Optional LED lights for all EasyCut R models are available in an accessories kit, ensuring road safety also in poor light conditions.