RX is KRONE's latest generation of forage wagons. Offering capacities between 36 and 43 m³, these machines serve two purposes – as self-loading and as controlled-unloading forage wagons but also as silage trailers in the transport fleet serving the forage harvester. The optional 30.5-inch tyres offer a higher load bearing, easier pulling, better soil protection and enhanced road safety. This versatility is paired with an outstanding reliability and efficiency, making the RX a particularly productive machine.
Articulated drawbar for high ground clearance
Drawbar suspension for comfortable rides
Camless pick-up, W-arrangement of tines
Swing-out cutterbar with 46 selectable knives
Massive cut-and-feed rotor with wide Hardox tine plates
Greater capacity from pivoting headboard
Double chain-and-slat floor slopes at front
Steel structure and steel floor
Product video
KRONE RX – Self-loading and harvester-filled forage wagon
Offering capacities between 36 and 43 m³ (DIN 11741), these wagons are not only self-loading but can control the unloading rate and serve as silage trailers in support of the forage harvester. This versatility is paired with an outstanding reliability and efficiency, making the RX a particularly productive machine.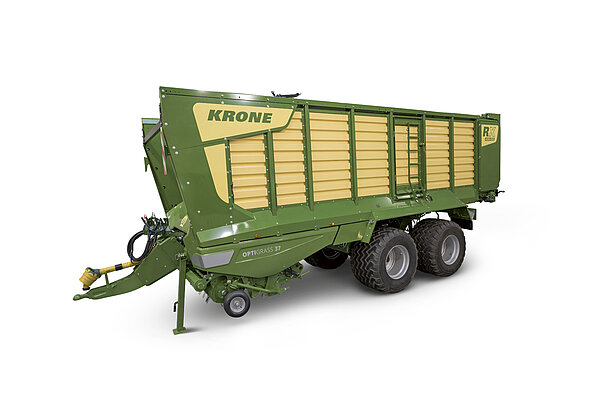 RX HIGH-PERFORMANCE SHORT CUT LOADING AND FORAGE TRANSPORT WAGON
OptiGrass
Camless pick-up with hydraulic drive with hydraulic relief
Integral rotor and SplitCut for optimum conditioning – provides a perfect cut
Blade cassette can be swivelled out to the side with 40 or 54 individually protected blades
Optional SpeedSharp blade grinder
Pivoting front wall increases capacity from a compact build
Axle assembly for maximum comfort
Premium lighting Standard
Options, which are worthwhile!
KRONE RX – the efficient loading and forage transport wagon a transport volume of 33 to 40 m³. The dual-purpose loading and forage transport wagon truly fulfills the requirements of both its purposes: as a loading and forage transport wagon in the grass harvest chain and as a forager-filled silage trailer in the maize transport chain. With the high-performance 'OptiGrass 28 and 37' cutting systems, it offers a clean, precise cut as well as structured and homogeneous forage conditioning across the entire width. Thanks to its versatility, operational reliability and high efficiency, the use of an RX wagon is particularly economical.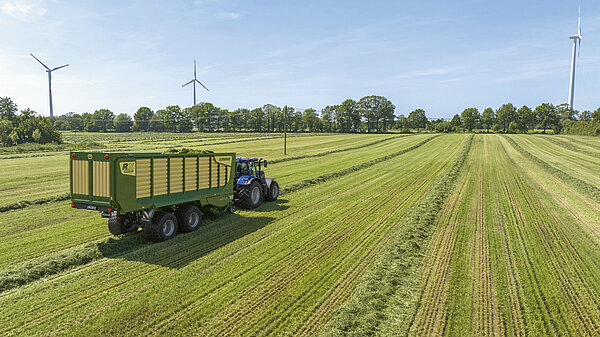 The dual-purpose loading and forage transport wagons RX 330, 370 and 400 GL / GD
"Loading and forage transport wagons "
33, 37 or 40 m³ loading volumes
"Compound running gear (RX 330 /370)
"Hydraulic running gear (RX 400) available for all models as an option
"Unloading with or without discharge rollers
"OptiGrass concept for a clean 28 or 37 mm cut
Their proven-and-tested design features and innovative technologies, such as the KRONE SplitCut edge cutting system and the OptiGrass concept, make the RX dual-purpose loading and forage transport wagons the ideal machine for efficient harvesting. With a loading volume of 33, 37 or 40 m³, these loading and forage transport wagons offer ample capacities for successful forage harvesting.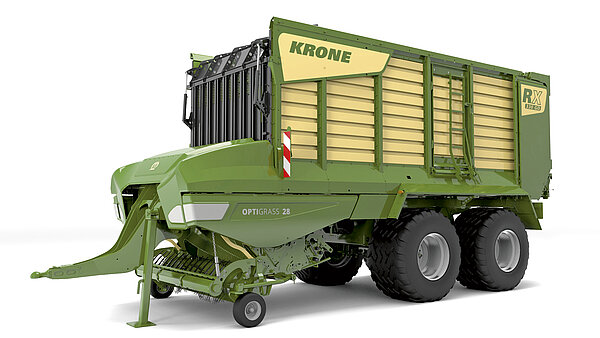 Sturdy, agile and convenient
[Translate to EN (UK):] Die Modelle RX 330 und 370 sind serienmäßig mit einem Verbundfahrwerk ausgestattet. Optional erhältlich ist auch ein hydraulische Fahrwerk welches beim Modell RX 400 serienmäßig geliefert wird. Beide Fahrwerksvarianten bieten eine perfekte Kombination aus Stabilität, Agilität und Komfort. Durch die gleichmäßige Gewichtsverteilung wird eine einfache Handhabung auf nebenem Gelände gewährleistet, während die präzise Steuerung und hohe Zuverlässigkeit für maximale Effizienz sorgen.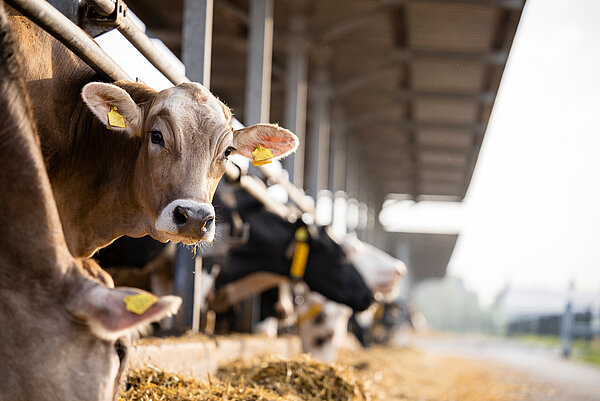 OptiGrass
Clean cut in theoretical length of 28 or 37 mm
"Optimal structure gentle conditioning under all conditions
"Homogeneous uniform conditioning of each stalk over its full width
"Precise wide steel plates and blades arranged for shear cutting
Perfectly coordinated precise interaction between pick-up and cutting rotor
"Innovative new integral rotor with unique divider wall system

Thanks to the KRONE OptiGrass system, the forage quality is clean, homogeneous and uniform. This is possible due to the precise cutting method with a choice of cutting lengths of 28 or 37 mm. Thanks to the perfectly coordinated technologies, conditioning is gentle, resulting in a clean and high-quality result.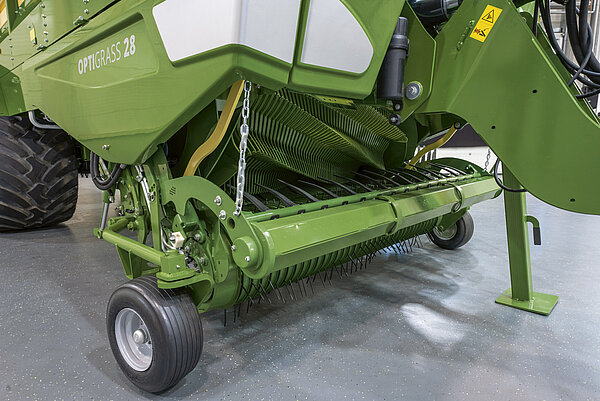 The KRONE EasyFlow pick-up
"Hydraulic drive separated from the feed and cutting rotor
"Automatic and manual speed control to adapt to the current ground speed
"Maintenance-free and hard wearing
"Consistent collection of the material by tines in a staggered W arrangement
"Large pivoting range
Electrohydraulic suspension for even better sward protection.

The EasyFlow pick-up with hydraulic drive is the ideal solution for demanding requirements. With its 6.5 mm thick double tines in a helical layout, it meets the most demanding requirements in ease of maintenance and pick-up capacity. The hydraulic drive integrated in this pick-up offers an even larger work width, which helps to collect even more material at an optimum driving speed and maximizes the intake capacity.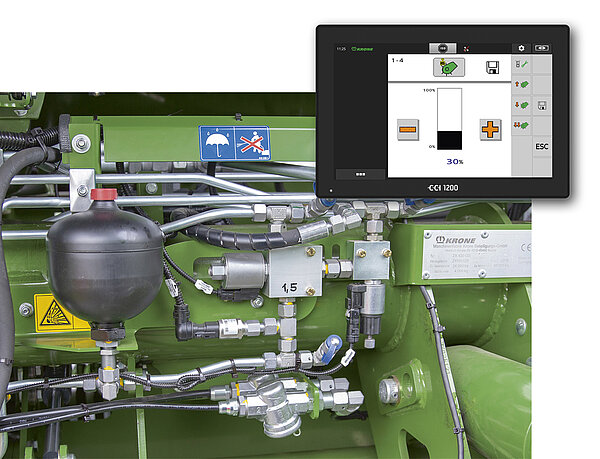 Gentle on the soil
[Translate to EN (UK):] Eine elektrohydraulische Entlastung der Pick-up über eine Stickstoffblase sorgt für eine noch bessere Bodenschonung. Mit diesem System kann der Fahrer den Entlastungsdruck jetzt bequem während des Betriebs von der Kabine aus einstellen, ohne vom Traktor abzusteigen.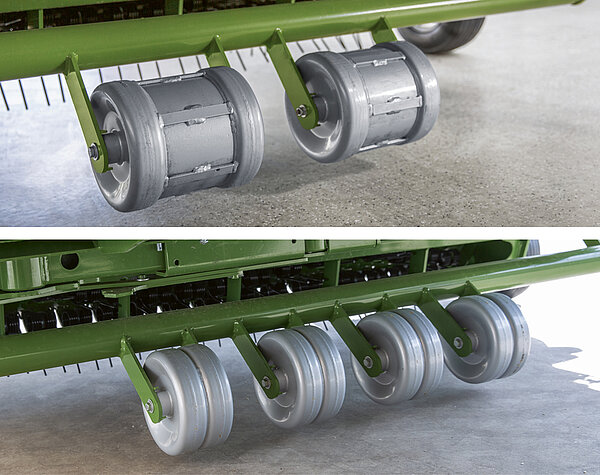 Secured as a standard
[Translate to EN (UK):] Breite Tasträder hinter der Pick-up sorgen für eine saubere Futteraufnahme auf feuchtem Untergrund. Die höhenverstellbaren Räder vermeiden zu tiefes Absinken und schützen so vor Schäden. Das 27 mm OptiGrass Schneidwerk verfügt über vier Räder, das 37 mm Schneidwerk über zwei.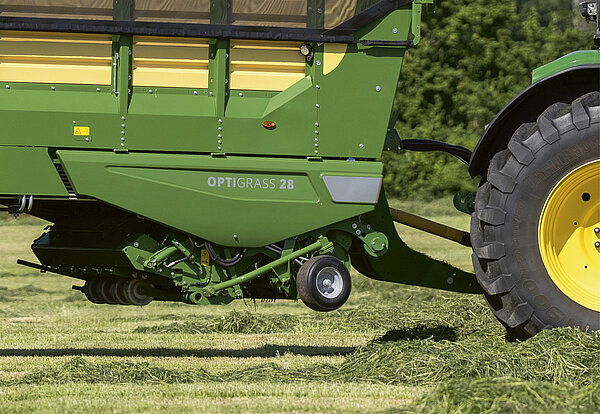 Drawbar control system
[Translate to EN (UK):] Die Knickdeichsel mit doppeltwirkenden Hydraulikzylindern gehört zur Grundausstattung. Mit einer Bodenfreiheit von bis zu 75 cm wird jedes Fahrsilo problemlos überfahren. Die zusätzliche Knickdeichselautomatik erhöht die Bodenfreiheit am Vorgewende. Die Ladeposition und die Vorgewende- bzw. Straßenposition lassen sich abspeichern.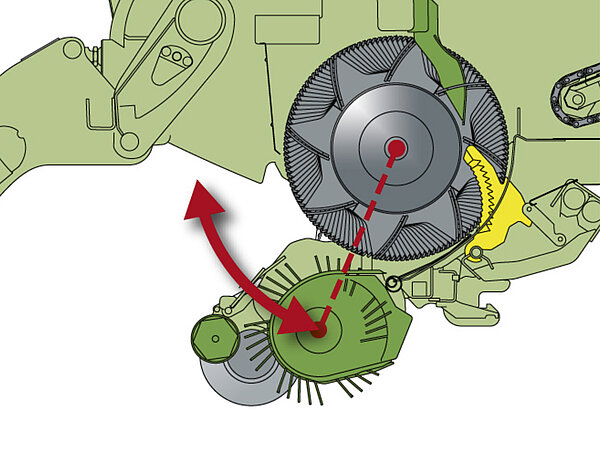 Lifting out higher
[Translate to EN (UK):] Da die Pick-up auf unebenen Untergrund mit konstantem Abstand um den Mittelpunkt des Schneid- und Förderrotors schwenkt, ist auch unter schwierigen Bedingungen ein optimaler Gutfluss gewährleistet. Die zum Zentrum des Schneid- und Förderrotors ausgerichtete Anlenkung ermöglicht eine weite Aushubhöhe – ideal am Vorgewende.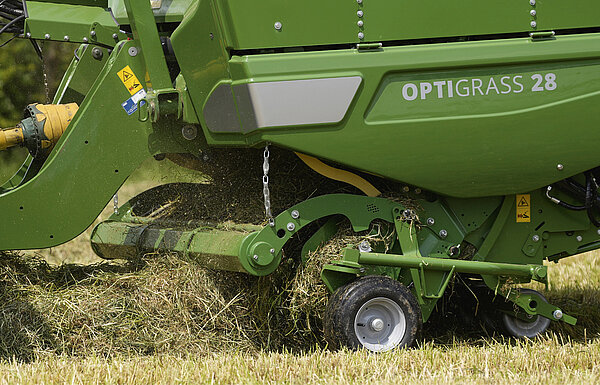 Large pivoting range
[Translate to EN (UK):] Die seitlich pendelnd aufgehängte Pick-up folgt den Bodenkonturen nicht nur längs, sondern auch quer zur Fahrtrichtung. Aufgrund des hydraulischen Antriebes innerhalb der Pick-up ist im Vergleich zu einem äußeren Kettenantrieb ein größerer Pendelweg realisierbar. Das Futter wird sauber aufgenommen. Nichts bleibt liegen.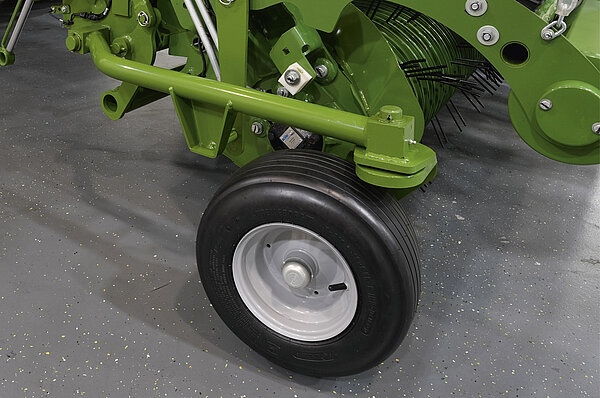 Excellent tracking
[Translate to EN (UK):] Die luftbereiften seitlichen Tasträder sind werkzeuglos in der Höhe einstellbar und lassen sich an alle Verhältnisse anpassen. Sie folgen allen Kurven, radieren nicht und schonen die Grasnarbe.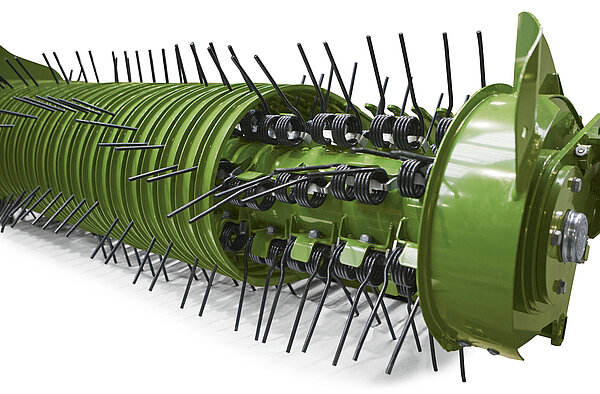 Extra strong
[Translate to EN (UK):] Die 6,5 mm starken Zinken mit großen Windungen halten höchsten Belastungen stand.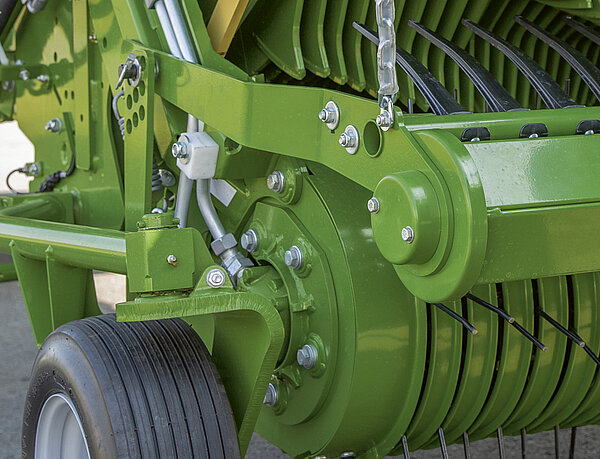 Hydraulic drive
[Translate to EN (UK):] Der geschützt innerhalb der Pick-up positionierte hydraulische Antrieb bietet viele Vorteile: - Mehr Platz für eine größere Arbeitsbreite der Pick-up - Wartungsfrei - Größere Pendelwege im Vergleich zu einem Kettenantrieb - Die Anpassung an die jeweiligen Erntebedingungen durch die manuelle oder automatische Einstellung der Drehzahl in Abhängigkeit vom Fahrtempo über ISOBUS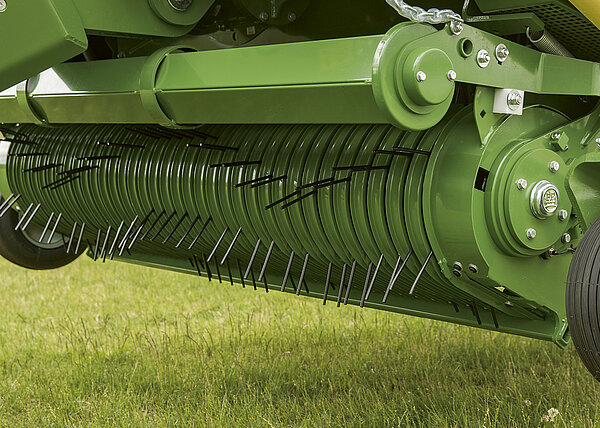 A unique pivoting system
[Translate to EN (UK):] Die auf einem Rundrohr w-förmig angeordneten Doppelzinken stehen für einen kontinuierlichen Futterfluss und eine gleichmäßige Beschickung des Schneid- und Förderaggregates über die komplette Breite. Das Resultat: mehr Leistung und eine bessere Ausladung.
Das OptiGrass concept
"OptiGrass 37 mm cutting distance with 40-blade cutting unit
"OptiGrass 28 mm cutting distance with 54-blade cutting unit
"KRONE PowerBelt the drive concept for extremely high throughput rates.
"Integral rotor with augers high-performance crop flow with maximum pick-up width
"KRONE SplitCut optimum conditioning over the entire rotor width
KRONE OptiGrass – state-of-the-art technology for perfect forage conditioning. The 40-blade cutting unit with a cutting distance of 37 mm and the 54-blade cutting unit with a cutting distance of 28 mm ensure optimum forage quality. KRONE PowerBelt ensures extremely high throughput rates and the KRONE SplitCut system ensures gapless conditioning across the entire rotor width.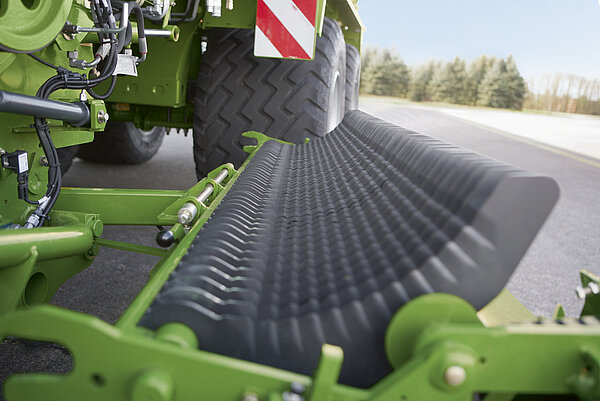 The OptiGrass cutting unit
Top cutting quality

Shear cut principle

Theoretical cutting length: OptiGrass 28 mm with maximum 54 blades | OptiGrass 37 mm with maximum 40 blades

Central blade group control system: 0, 20, 20, 40 blades | 0, 27, 27, 54 blades

Blade changing without tools and with central locking
KRONE OptiGrass cutting units offer wide tine holders and closely spaced, guarded blades which provide an easy and precise cut, similar to a pair of scissors. Two cutting units with 40 or 54 blades are available for optimum conditioning. Thanks to the central blade group control system, the cutting length can be varied at any time between a half and full set of blades, allowing cutting distances of 28 or 56 mm or 37 or 74 mm. OptiGrass therefore offers a flexible solution for different cutting lengths.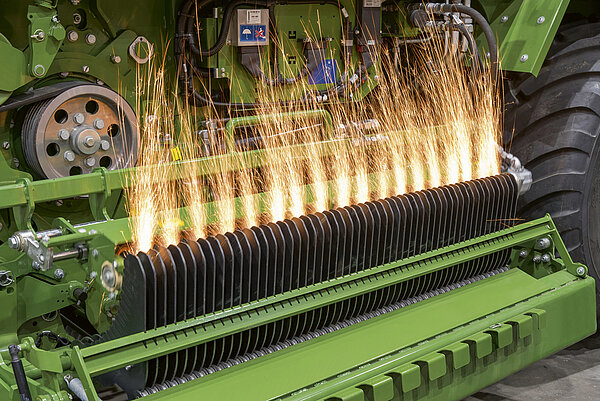 KRONE SpeedSharp
"

Sharpens the blades

conveniently and fast within minutes

"

Simultaneous sharpening

of half (OptiGrass 37) or a third of the blades

(OptiGrass 28)

"

No annealing of the knifes

thanks to a 'cold grind'

"

Simple design, absolutely dependable

"

No sparks flying under the wagon
Sharp blades are fundamental for clean and smooth cuts. Therefore KRONE developed SpeedSharp, the unique blade sharpening system for fastest, safest and most convenient grinds. The trademark of this system is its simplicity.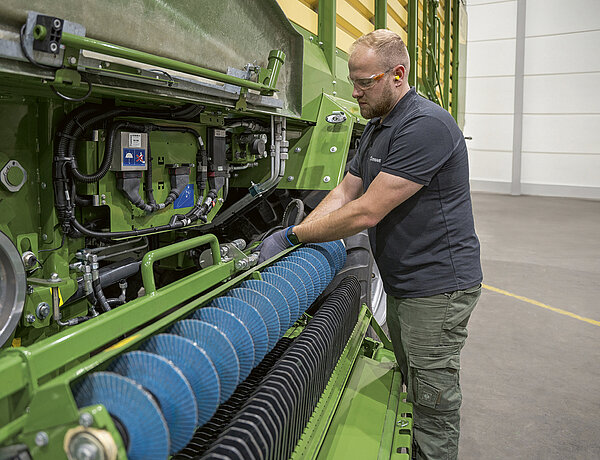 Automatic and safe
[Translate to EN (UK):] Nach dem Hochklappen der Schleifwelle bei ausgeschwenktem Schneidwerk und dem Ankuppeln von zwei Hydraulikschläuchen sowie einem Elektrokabel wird der Schleifvorgang über eine Taste am Fahrzeugrahmen gestartet. Die zum Schleifen erforderlichen Bewegungen nach oben und unten und das seitliche Verschieben der Schleifscheibenwelle werden automatisch gesteuert. Der gesamte Schleifvorgang findet neben dem Wagen statt und ist so gut einsehbar.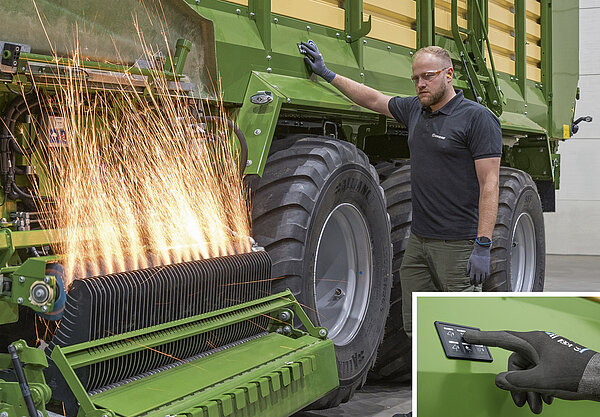 Sharp blades
[Translate to EN (UK):] Ein kompletter Schleifvorgang inklusive Ausund Einschwenken des Schneidwerkes ist schnell erledigt: In nur fünf Minuten sind je nach Anzahl der Schleifzyklen alle 40 bzw. 54 Messer scharf. Das zum Schärfen der Messer seitlich ausgeschwenkte Schneidwerk ist gut einsehbar und das Schleifergebnis damit auch bestens überprüfbar.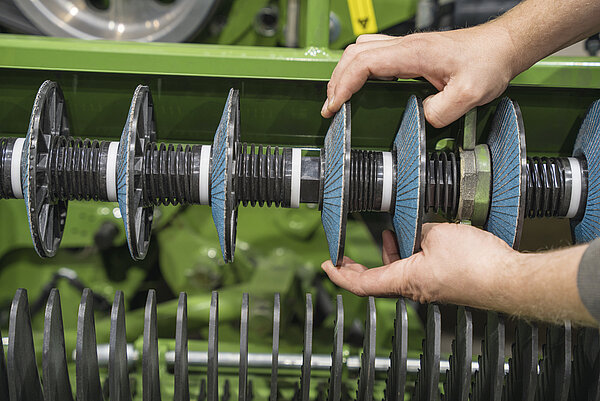 Consistent sharpness
[Translate to EN (UK):] Um beim Schärfen einen hochwertigen, gleichmäßigen Schliff aller Messer bei geringstem Materialabtrag zu erzeugen, werden die Schleifscheiben einzeln von Kegelfedern an die Messerschneide gedrückt. Das System gewährleistet gleiche Schärfe bei unterschiedlich verschlissenen Messern.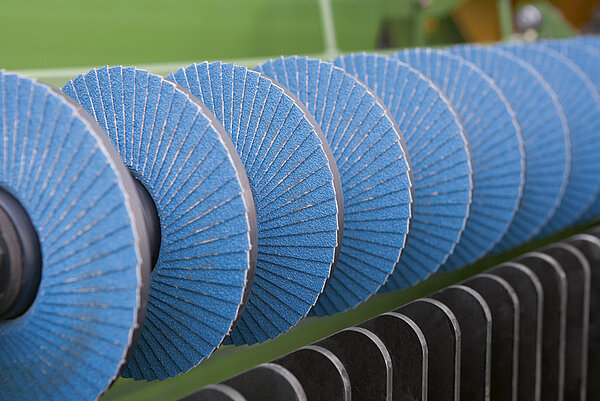 The perfect grinding process
[Translate to EN (UK):] Je nach Messeranzahl erfolgt der Schliff mit 18 oder 20 Fächerschleifscheiben, welche mit einzelnen, weit überlappenden Schleiflamellen für eine besonders hohe Schleifleistung und Lebensdauer sorgen. Der "kalte Schliff" verhindert ein Ausglühen der Messer.
A KRONE exclusive!
[Translate to EN (UK):] Die Schleifscheiben der optionalen vollautomatisch arbeitenden Schleifeinrichtung sind auf einer seitlich verschiebbaren und hydraulisch angetriebenen Welle angeordnet. Alle Arbeitsabläufe für das Schleifen der Messer erfolgen automatisch mit nur einem Knopfdruck.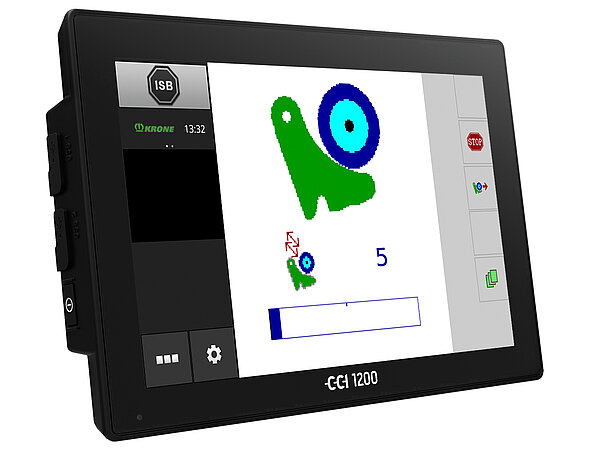 Convenient for operators
[Translate to EN (UK):] Die Einstellung der Schleifzyklen kann dem Abnutzungsgrad der Messer vom Bedienterminal aus angepasst werden.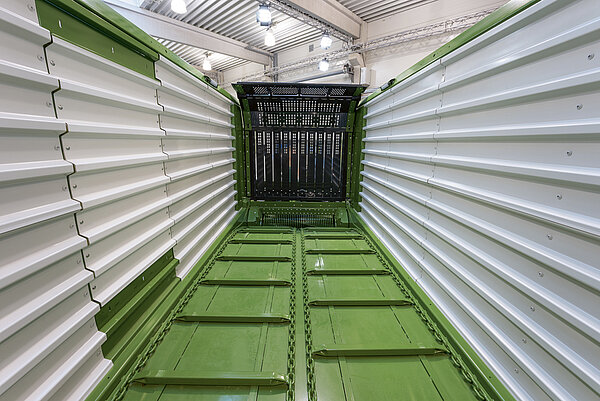 The loading space
All-steel floor and all-steel body "
Choice of headboards: pivoting or top hatch
"Double scraper conveyor, sloping towards the front "
Robust round steel chains with closed cross tubes
"Standard LED light bars illuminate the load area
"Integrated filling level indicator in the operating terminal
"3 discharge rollers with large diameter (47 cm) as standard

With their all-steel loading space, the RX dualpurpose loading and forage transport wagons are designed for the toughest practical applications. Choose a pivoting headboard or a rigid headboard with a top hatch to optimize the machine's filling capacity. The robust scraper conveyor empties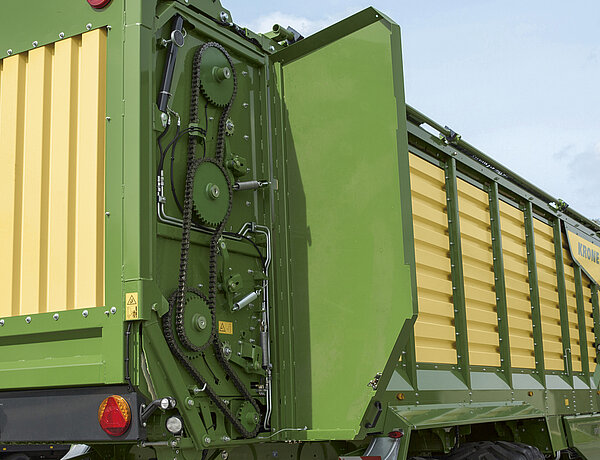 The efficient driveline
[Translate to EN (UK):] Die besonders robusten Getriebe und die 1 Zoll starken Rollenketten mit automatischen Kettenspannern übertragen die volle Leistung. Der Kettenantrieb erfolgt von einer längs im Fahrzeugrahmen liegenden Welle und über ein im Seitenträger geschütztes Winkelgetriebe.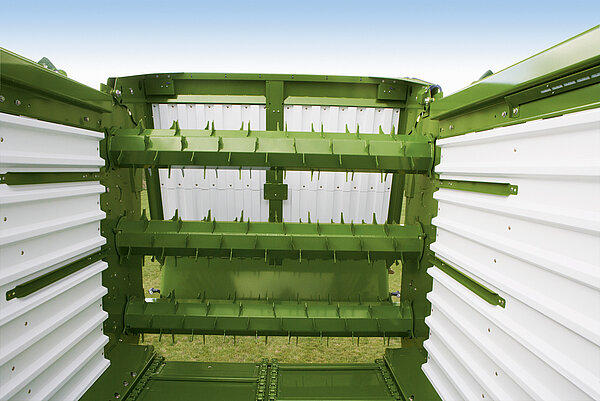 Three rotors for three-fold power
[Translate to EN (UK):] Mit drei geschlossenen Dosierwalzen und einstellbarer Rückwand legen Sie einen noch homogeneren Futterteppich ab. Die v-förmig angeordneten Zinken verteilen das Futter über die komplette Breite. Die höhere Drehzahl der Dosierwalzen führt zu noch kürzeren Abladezeiten.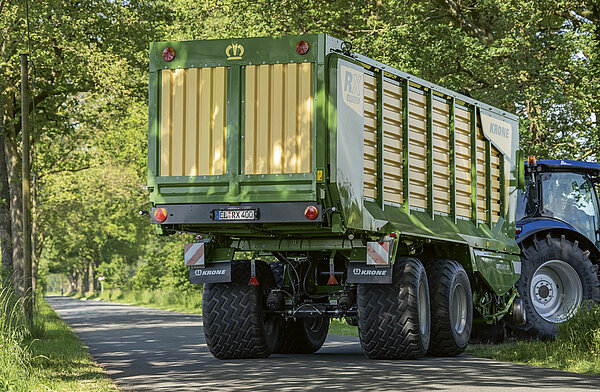 Hitch, drawbar and running gear
"Tandem compound running gear, 18 t for RX 330 and RX 370 as standard
"Hydraulic 20 t tandem chassis: RX 400 as standard | RX 330 and 370 optional
"Hydraulic 27 t tridem chassis optional for RX 400
"Narrow and compact drawbar
"Articulated drawbar for high lifting height
"Intelligent self-steering as standard
"Contactless electronic forced steering, optional
Varying harvest conditions, difficult situations on the clamp, high payloads, and long-distance travel at speed call for a running gear and a drawbar that offer maximum strength and stability as well as superior comfort and safety to the operator. With ball-head attachment 80, articulated drawbar and tandem or tridem chassis as well as adjusted tyres, the RX dual-purpose loading and forage transport wagons are perfectly equipped for all applications.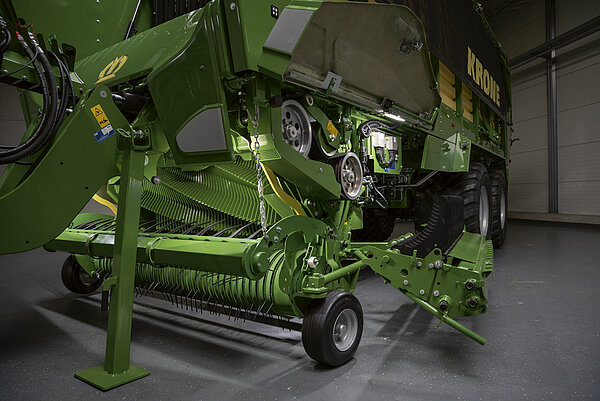 The lighting
"Premium lighting package as standard
"Excellent all-round visibility at night thanks to two powerful LED working lights at the rear
"Reflectors and front position lights for safe operation in the field and safe road travel
"The load always in view :Thanks to LED light strips installed as standard in the loading space
"Additional working lights can be quickly retrofitted thanks to prepared cable position
The KRONE RX's Premium lighting package not only enhances safety, but also increases nighttime productivity. The Premium package provides optimum lighting of the surroundings, the loading space, the crop flow and the drive components. Additional working lights can be retrofitted as an option.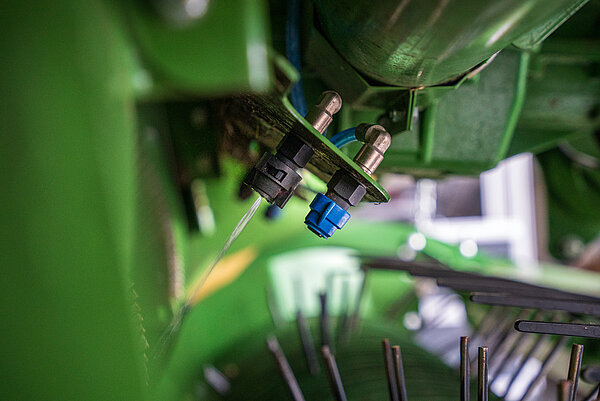 Silage additives unit
"Spreading above the pick-up using flat jet nozzles
"200 litre tank capacity optimally positioned for access at the rear
"Easy cleaning of the system
"Removal of the pump unit without tools
"Convenient operation via the terminal
"Different modes for optimal dosage
The KRONE RX has an integrated dosing system with a 200-litre silage additives tank which can be operated in different modes. The pump unit, including the filters and valves, is installed in the rear of the vehicle to save space. An electronic filling level indicator enables reliable and fast monitoring of the silage additives supply.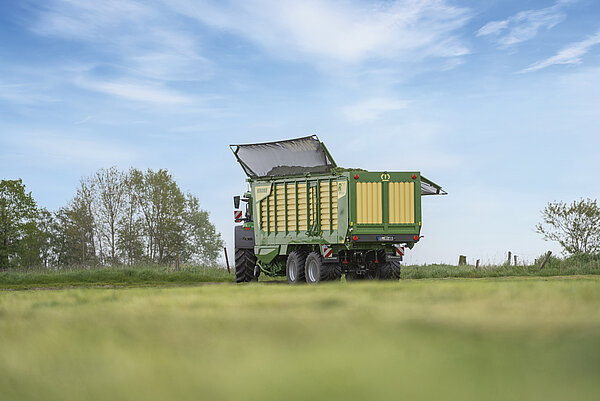 The additional equipment
"Loading space cover for loss-free transport
"Camera with colour display on the monitor
"Weighing device for an exact measurement
"KRONE SmartConnect telemetry unit optimal data management
The loading space cover ensures clean transport even when driving fast and increases safety in road traffic. A camera helps to see the working environment better, making work easier and safer. The electronic weighing device can be used to measure the loading quantity precisely. The KSC control unit ensures rapid transmission of the recorded data.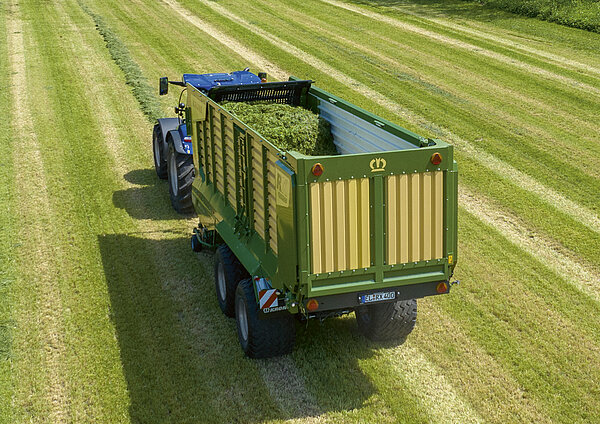 The operation
"Convenient for operators
"Clear concept
"Easy
"CCI ISOBUS – one control box for all
Operator comfort is essential. Our shockproof operator terminals are compact, clear-cut and easy to operate. They feature backlit buttons to reduce operator fatigue during those long shifts well into the night. The CCI terminal is a universal operator control unit, which is compatible with a wide variety of ISOBUS implements from many manufacturers.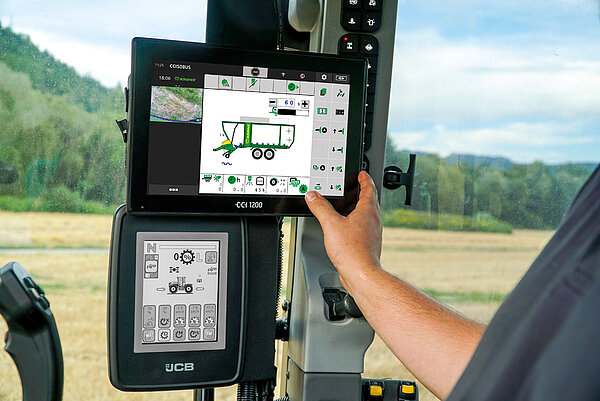 Everything at a glance
[Translate to EN (UK):] Die Bedienoberfläche des KRONE RX ist aufgrund ihrer einfachen und intuitiven Bedienbarkeit besonders benutzerfreundlich. Verschiedene Arbeitsschritte werden durch eine Visualisierung, wie z.B. drehende Dosierwalzen veranschaulicht. Für mehr Komfort sorgt die konfigurierbare Anzeigeleiste, mit der die Bedienoberfläche individuell an die Bedürfnisse des Benutzers angepasst werden kann. Ebenfalls stehen Automatikfunktionen wie die Beladeautomatik PowerLoad, die Entladeautomatik sowie die Knickdeichselautomatik zur Verfügung. Für die bestmögliche Ausladung sorgte die neue visuelle Füllstandsanzeige über dem Laderaum.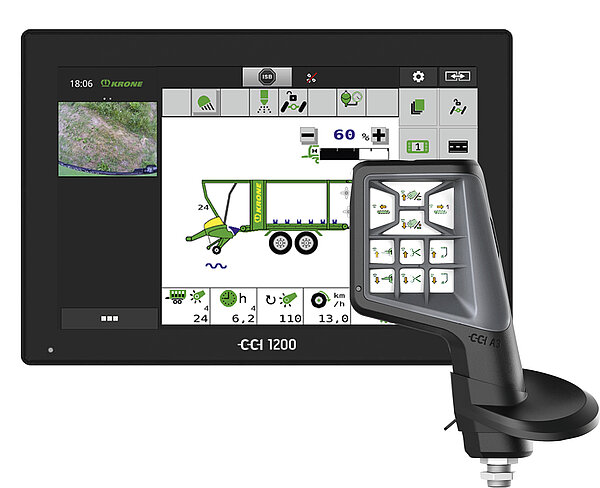 CCI 800 and CCI 1200 operator terminals
[Translate to EN (UK):] Die beiden Bedienterminals CCI 800 und 1200 mit 8"- bzw. 12″-Touchdisplay bieten die Möglichkeit, den Bildschirm zu teilen. Die eine Seite zeigt dann beispielsweise alle Elemente der Maschinenbedienung an, die andere das Bild einer Überwachungskamera. Die Erweiterung um einen AUX-Joystick ermöglicht eine noch komfortablere Maschinenbedienung.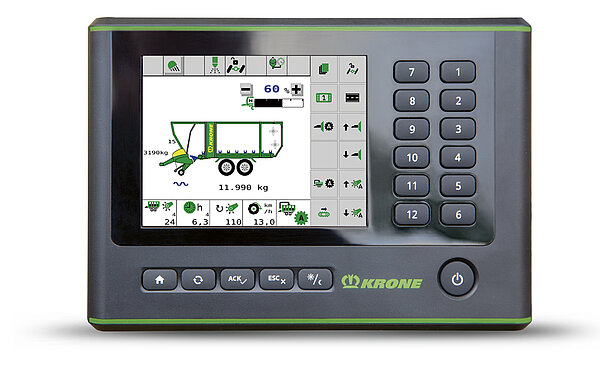 The DS 500 Terminal
[Translate to EN (UK):] Das kompakte DS 500 Terminal verfügt über ein 5,7″-Farbdisplay. Die Bedienung erfolgt wahlweise über die 12 Funktionstasten, per Touchscreen oder mithilfe des Scrollrads auf der Rückseite. Die Verwendung eines optionalen Joysticks macht die Bedienung noch komfortabler.