With the BiG M 450 ­KRONE presents another upgrade of its self-propelled mower. Offering huge work width, superior manoeuvrability, optimum weight distribution and tapping into enormous power reserves, BiG M 450 is the perfect mower for large and small fields, for flat and hilly land and for the most difficult soil conditions – a machine that excels in any conceivable application in any field in the world.
Powerful and fuel efficient 449 hp Liebherr engine
Large 9.90 m work width for maximum productivity
Conditioners with steel tines or rollers (rubber or steel)
Heavy-duty cutterbar with SafeCut blade protection
Hydraulic running gear adjusts for more ground clearance
­KRONE GPS Guidance and SectionControl for maximum efficiency and comfort
BiG M 450
Large working width of 9.90 m for maximum efficiency
Outstanding operator comfort thanks to hydropneumatically suspended axles
Heavy-duty cutterbar with SafeCut foreign object safety protection
Variable conditioner: Conditioners with V-shaped steel tines or rollers (rubber or steel)
449 hp engine: Powerful and fuel efficient Liebherr engine
­KRONE GPS Guidance and Section Control for maximum efficiency and comfort
The BiG M 450 is the professional machine of choice when it comes to forage harvest efficiency. Its enormous agility, perfect visibility and the intuitive user interfaces are just a few examples of what sets the BiG M apart from the crowd. This means that, if you look for this unique level of forage harvesting performance, there is no alternative to the BiG M 450.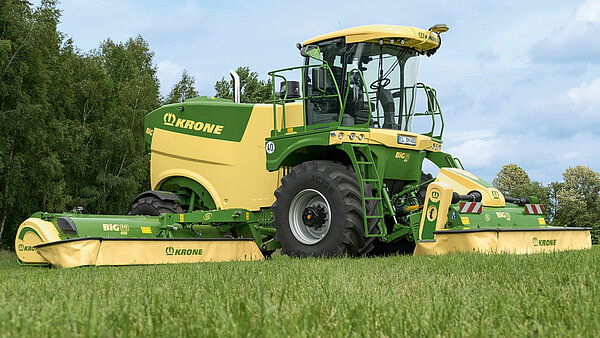 The BiG M concept
Optimum weight distribution for great sward protection
Enormous manoeuvrability based on a professional design
Optional swath mergers
Low centre of gravity for high stability
40 km/h road travel
Best visibility and quickest changeovers
Safe road travel
Under 4 m transport height and under 3 m transport width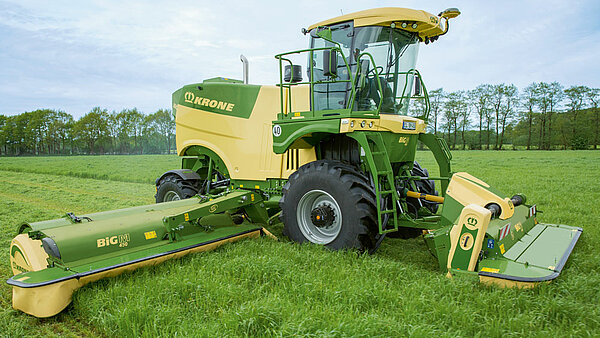 The mowers
Direct drive through Powerbands and driveshafts
Stepless and hydraulic cutting height control
Front mower with optional auto sideshift relative to the current steering angle
DuoGrip centre-of-gravity suspension on the side mowers
The innovative KRONE BiG M 450 driveline allows operators to achieve work rates of more than 17 hectares per hour. The power flows from the axially mounted engine down the powerbands and driveshafts and directly to the three mowers. And superior operator comfort comes from hydraulic cutting height control from the cab and fully hydraulic ground pressure control.
The EasyCut cutterbar
Fully welded and permanently lubricated HeavyDuty cutterbar
SafeCut shear-pin protection for each individual disc
Satellite driveline smooths the power flow inside the cutterbar
SmartCut system ensures a perfect cut
Added protection from wear
The BiG M 450 sources its super sturdy disc mowers in HeavyDuty specification from the well-proven EasyCut range. The power flow enters the mower from the rear through the gearbox and flows down a driveline of massive and quiet-running spur gears that drive the satellite gears and the discs. KRONE SmartCut implements a generous overlap of those discs that turn away from each other, which translates into a perfect cut. Meanwhile, the SafeCut system protects the blade from damage caused by hitting an object.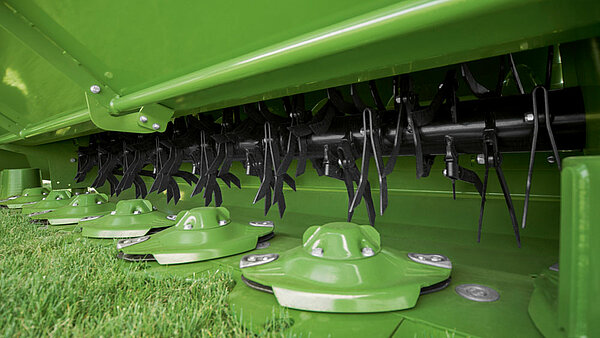 The CV tine conditioner
High-performance conditioners for crop stalks
Conditioning of the forage at full working width
V-shaped steel tines for intensive and gentle conditioning
Tool-free adjustment of the conditioning intensity
Efficiency is one parameter in hay and forage harvesting, quality is another. The ­KRONE CV high-performance conditioner and its V-shaped steel tines distribute the forage over the entire working width of the cutterbar. 64 cm diameter and the helical arrangement of the tines ensure a continuous crop flow, high intake capacity and the optimum conditioning.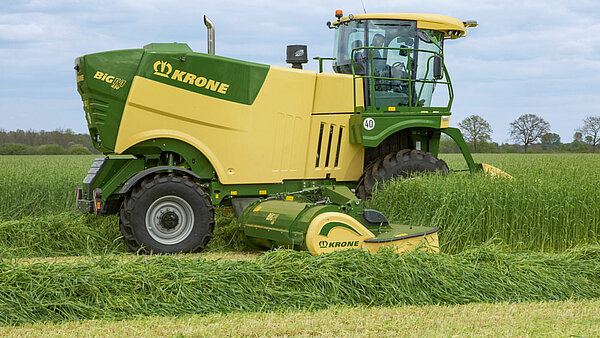 The swath mergers
Augers with fingertip-controlled hoods
Augers ensure a clean and gentle crop feed
Crops hardly touch the ground – minimum contamination
Perfect swath presentation for the following harvesters
Cutting, conditioning and producing one single swath – BiG M 450 completes three tasks in one operation. With the augers forming an integral part of the side mowers, they deposit the material on the swath that was formed by the front mower without the material touching the ground at all, staying very clean and reducing a pass in the harvest chain.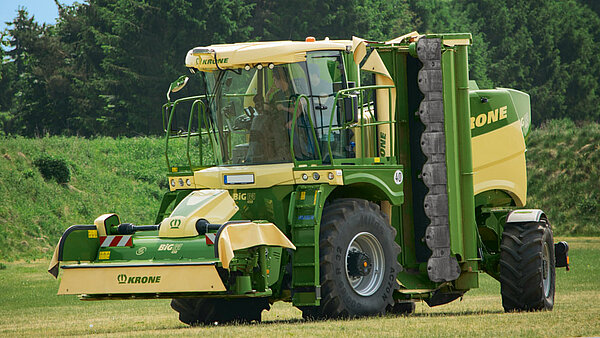 Traction drive and running gear
Infinitely variable power transmission via wheel motors
Engine speed reduced to 1,250 rpm when driving on the road for low fuel consumption and extremely quiet running
Hydro-pneumatic axle suspension for high operator comfort
Hydraulic axle height control adjusts ground clearance to conditions
Wheel motors bring the power steplessly on the ground and make BiG M 450 fantastically easy to steer and manoeuvre. The axles boast hydro-pneumatic suspension for ultimate operator comfort and hydraulic height control, so that operators can flexibly adjust the ground clearance of the machine in field work and for road travel at reduced transport height. In difficult ground conditions, such as on slopes, the BiG M scores with its optimal weight distribution and low centre of gravity.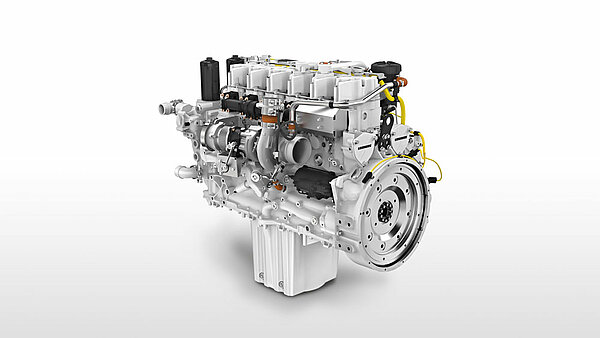 The engine
6-cylinder, 449 hp LIEBHERR engine, Emission Stage V compliant
Long 1000-hour service intervals
Extremely fuel-efficient thanks to PowerSplit engine control
Mounted on silent blocks and therefore quiet running
Large radiator with passive rotor for optimum temperature control
The 449 hp Liebherr engine features automatic engine control which tailors the output to the current load on the mowers. Consequently, BiG M 450 will use less fuel in lower-yield crops. A new load limit control system monitors the engine speed and reduces the ground speed when engine speed is very low. Mounted on silent blocks, the engine runs very quietly in all situations.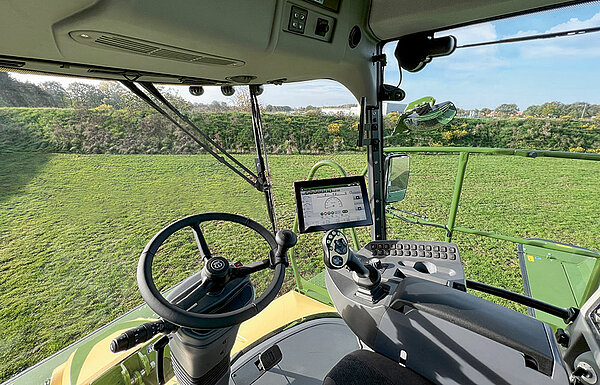 The Cab
Large window screens offer perfect all-round visibility
Maximum seating and operator comfort
8-inch or 12-inch terminal with colour-display touch screen
Optional LED package for maximum lighting
Modern armrest with integral joystick
Mounted on hydro bearings, the SilentSpace cab is particularly quiet, offers plenty of space and an ergonomically designed environment. In standard specification, the machine has the high-resolution 8-inch or 12-inch touch screen terminal where operators set up and monitor all machine functions. Further standard features are the multifunction joystick in the armrest, automatic climate control and the electric cooling box. More comfort is available from the optional LED package or the Premium comfort seat.
Service and maintenance
Sensor-based auto lubrication
1000-hour or 1-year engine service intervals
Optimum accessibility through wide opening covers
Plenty of storage space for tools and parts
Large 780-litre diesel and 80-litre urea tanks
BiG M 450 is specified with many details which make service and maintenance a lot easier and reduce the time spent on these jobs. The sensor controlled automatic lubrication system supplies oil to most greasing points.

Further specification options
­KRONE GPS Guidance and Section Control for reduced operator stress
High-cutting skids for cuts of more than 90 mm in height
Mulcher conversion kit with 9.20 m working width
LED light kit for 360° illumination
A wide range of further extras are available as factory-installed options to boost operator comfort and create an even more pleasant operator environment.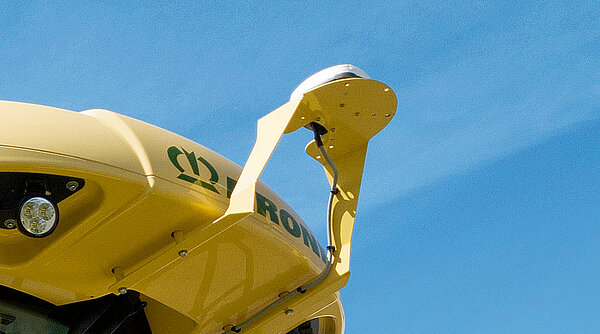 ­KRONE GPS Guidance – The ­KRONE steering system
­KRONE GPS Guidance makes operating the BiG M 450 as convenient and safe as it can get. Thanks to this automatic steering system and the correction signals received via a GPS receiver, the BiG M can drive over the area to be harvested true-to-track with minimal overcut and no misses. For the driver, this means fatigue-free work and a high level of comfort.