EasyCut B 870 and B 1000 without conditioner
EasyCut B 750, B 890, B 970 without conditioner
EasyCut B 950 Collect without conditioner, with merger augers
EasyCut B 870 CV and B 1000 CV with steel tine conditioner
EasyCut B 870 CR and B 1000 CR with roller conditioner
EasyCut B 870 CV Collect and 870 CR Collect, B 1000 CV Collect and B 1000 CR Collect with merger belts
KRONE quick-change blades
KRONE SafeCut: Individually protected discs
KRONE SmartCut: Stripe-free cutting
KRONE CombiFloat: Uniform ground pressure across the entire work width
Operator comfort to the max
Product video
EasyCut B – KRONE mower combinations
Introducing the new EasyCut B 870 and EasyCut B 1000, KRONE adds two models to its range of butterfly combinations. Compared with the previous butterfly mowers without conditioners, the new models stand out for a modern design and curved styling, taut curtains and an optimised weight thanks to a new headstock.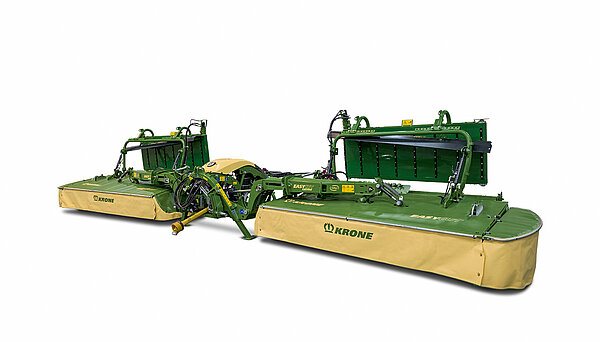 KRONE mower combinations for maximum efficiency
­­KRONE SmartCut: Stripe-free cutting
­­KRONE quick-change blades
­­KRONE SafeCut: Individually protected cutting discs
EasyCut B 870 and B 1000 without conditioner
EasyCut B 950 Collect without conditioner, with auger conveyors
EasyCut B 880 and B 1050 CV/CR Collect
EasyCut B 1050 CV: With BiG Swath System
­­KRONE Combi Float: Uniform bearing pressure across the entire work width
EasyCut B 870 CV/CR and B 1000 CV/CR Collect
With innovative technology and excellent performance, the EasyCut B mowers set new standards in terms of efficiency. Whether dense grass, high field forage or difficult meadows – the EasyCut B models are up to every challenge. They perfectly adapt to the ground conditions and reliable follow the contour. The result: Even cuts without any compromise.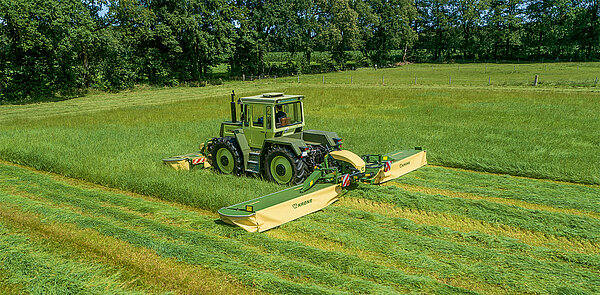 The KRONE cutterbar
Fully welded cutterbar: Robust, sealed and permanently lubricated
Durable satellite drive with large spur wheels: Very quiet running and optimum power transmission
Without inner shoe for trouble-free mowing
The completely welded cutterbar meets the highest quality standards, will remain leaktight and retain its shape even after long-term use. The large, oil-immersed spur wheels withstand sustained peak loads and are particularly quiet during operation.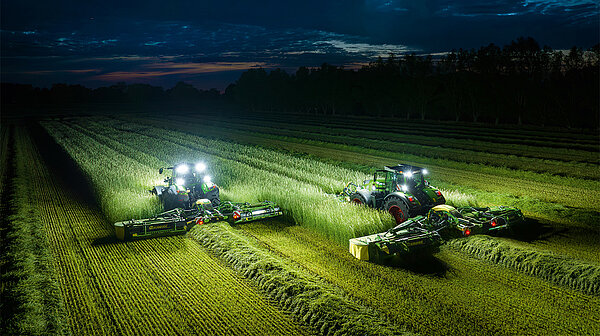 ­­KRONE SmartCut and spreading modes
The wedge-shaped cutterbar guarantees clean cuts
Heavy-duty spur gears run in double bearings
Widely spaced bearings
Swathing or wide spreading depending on needs
The wedge-shaped cutterbar offers great flexibility to adjust through a large range of settings and leave a short stubble in meadows and pastures as well as long stubble in long-stemmed forage crops. An EasyCut mower delivers a reliable performance and clean cut.
The KRONE quick-change blade system
Quick-change blades are standard specification, allowing operators to swap blades in the field quickly
Modular disc design
Minimum blade wear: 360° blade Action
Excellent cuts from SmartCut: Optimum blade overlap
There are many reasons for choosing an EasyCut disc mower. Just think of the quick-change blades, the inexpensive wear parts and the perfect disc arrangement for stripeless cuts.
The KRONE SafeCut system
Fully protected drives for greater reliability
No collision with neighbouring cutting discs
Wear-free
Quick-change roll pins for minimum downtime and costs
Colliding discs may cause damage and involve costly repairs. ­­KRONE SafeCut offers maximum protection. The award winning system on all EasyCut models offers a unique level of protection and operator comfort. SafeCut is part of the basic equipment of all EasyCut F series disc mowers.
The KRONE DuoGrip centre-of-gravity suspension
Patented DuoGrip attachment of the cutterbar: Mounted in the centre of gravity and controlled by parallel arms
Uniform bearing pressure across the entire work width
Optimum guidance: Less side pull, clean cuts
Continuous suspension for superb contouring and sward protection
The ­­KRONE DuoGrip suspends the EasyCut mowers in their centre of gravity and guides them with suspension arms. This design allows the cutterbar to follow the ground contours even more accurately for a better protection of the sward. and high-quality forage even in difficult conditions.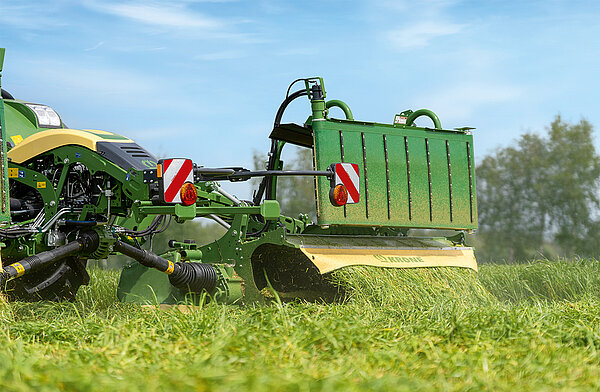 The ­­KRONE tine conditioner
V-shaped steel tines at steep angles give intensive and perfect conditioning
The driveline dispenses with belts for frictional and low-maintenance Connections
Great operator comfort from mechanical conditioner gearbox
Adjustable baffle plates for enhanced conditioning
Efficiency is one parameter in hay and forage harvesting, quality is another. The high-performance KRONE CV conditioner with V-shaped steel tines spreads the crop at the full working width. The 640 mm diameter rotor and the helical arrangement of the tines warrant a continuous crop flow, high throughputs and superior conditioning.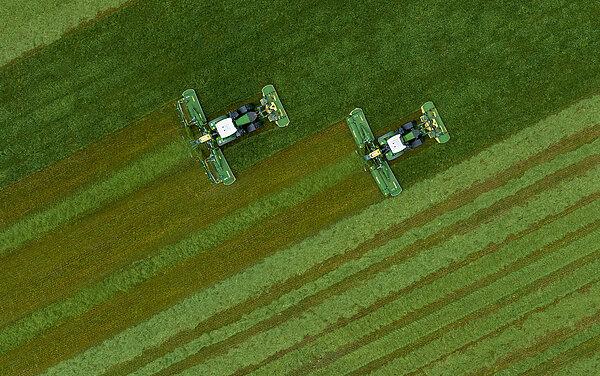 The KRONE Collect system
Variable swath width by means of optional accelerator rollers
Tractor-independent oil supply through on-board hydraulic system
Automatic activation and deactivation of the cross conveyor belts
Divided conditioner tray for loss-free crop transfer
Extra wide 910 mm cross conveyor belts handle large volumes of crop
The ­­KRONE Collect system offers multiple setting options suitable for the most diverse applications around the world. The ­­KRONE Collect cross conveyor belts deliver clean and perfect swaths that are easily picked up by the following harvesters for loss-free harvests.
Resettable cross conveyor belts
The swath width of the EasyCut B CV and CR Collect can be preset by means of a hole pattern. The fine adjustment in keeping with the harvesting conditions is made via the belt speed and the optional accelerator rollers.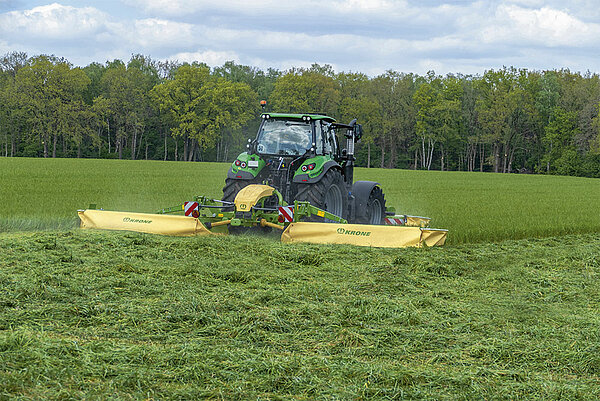 EasyCut B 870 · B 1000 - Butterfly combinations without conditioners
Variable, up to 10.00 m work widths on EasyCut B 1000
Weight-optimized headstock reduces rear axle weight and ground pressure.
Adjustable non-stop impact damage protection system is a standard feature
SmartCut and SafeCut ensure perfect cuts and maximum uptime
Hydraulic suspension as a standard feature
In the EasyCut B 870 and B 1000, ­­KRONE is presenting two powerful mower combinations that feature sophisticated technology and state-of-the-art design. With its optimised weight and hydraulic relief, the headstock not only protects the turf but also allows for use of smaller tractors.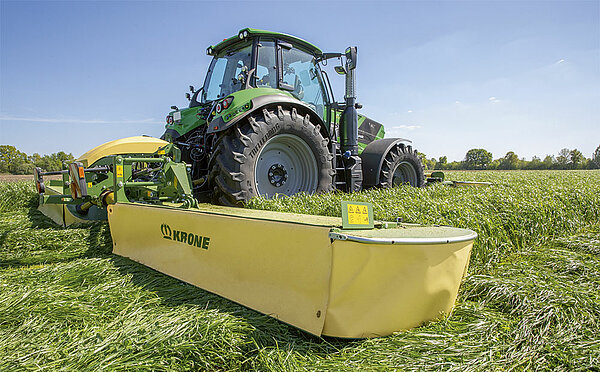 EasyCut B 870 · B 1000 – Variabel and convenient
The outrigger arms adjust to two positions (EasyCut B 870) or infinitely variably (EasyCut B 1000) to provide optimum overlapping
Optimum overlapping eliminates striping in curves and on slopes
Hydraulic bearing pressure control conveniently from the cab
EasyCut B 870 and B 1000 are no-compromise machines. The infinitely variable arm length control adapts mower unit overlaps to the current conditions without compromising on acreage and output.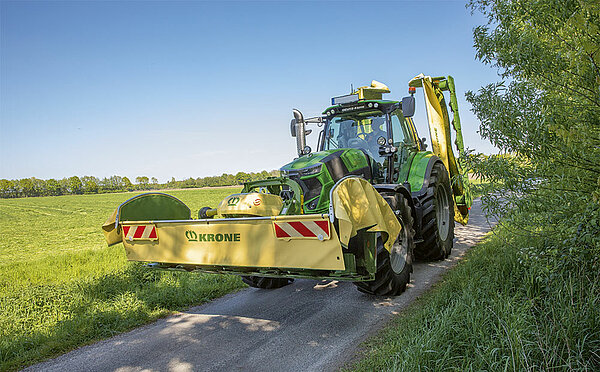 EasyCut B 870 · B 1000 - Easy use
Safe road travel thanks to 95° transport angle. Less than 4 m transport height and 3 m width.
Compact storage position on sturdy support jacks
LED lights and reflecting warning panels are standard specification
The carefully designed folding mechanism makes for a compact storage position. Road travel is safe, too thanks to the compact transport dimensions.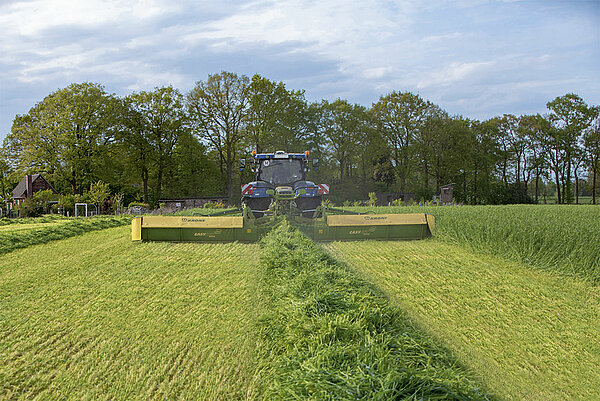 EasyCut B 950 Collect - Mower combination without conditioner, with auger conveyors
Light-weight and compact mower combination without conditioners
9.45m working width including front mower
Massive auger conveyors merge the swaths
Three swathing modes are selected from the cab: individual swathing, partial width swathing and wide spreading
Hydraulic mower suspension controlled from the cab
The EasyCut B 950 Collect is a very compact mower combination that has auger conveyors but no conditioners. The massive augers merge large volumes of crop such as green rye into a uniform and clean swath.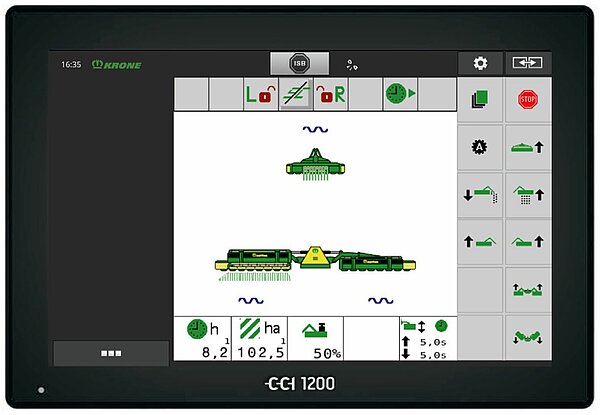 ISOBUS Comfort Control Unit
[Translate to EN (UK):] Mithilfe der optionalen ISOBUS-fähigen Komfortbedienung können die Funktionen des Mähwerkes über die traktoreigenen Terminals sowie das DS 500, CCI 800 oder CCI 1200 mit Touchscreen intuitiv und komfortabel über Load-Sensing bedient werden.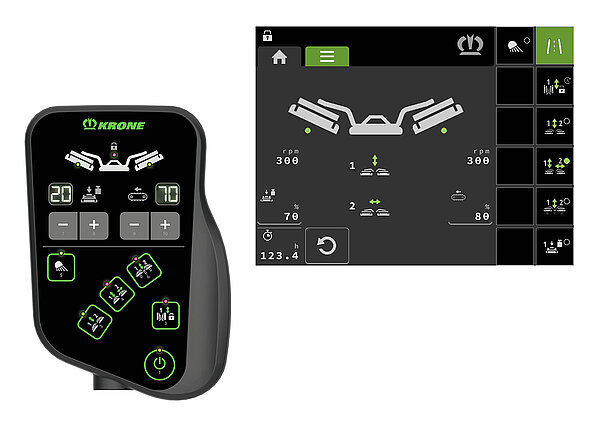 PreSelect preselection operation
[Translate to EN (UK):] Beim EasyCut B 950 Collect lassen sich die hydraulischen Funktionen über das PreSelect DS 50 oder alternativ mithilfe des PreSelect Digital per Terminal vorwählen und werden dann über die traktorseitigen Steuergeräte ausgeführt.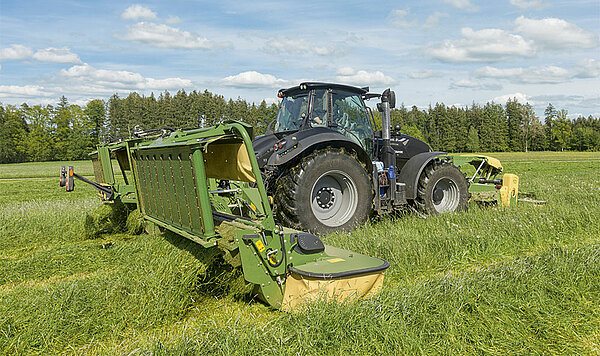 EasyCut B 870 CV · B 870 CR - Mower combinations with conditioner
8.70 m work width
EasyCut B 870 CV with tine conditioner
EasyCut B 870 CR with roller conditioner (rubber rollers or M-Rolls)
A compensation rocker ensures the bearing pressure is uniform on either side
A standard impact damage protection system gives effective protection
EasyCut B 870 CV and CR not only utilise the power of your tractor but also save time and costs. The EasyCut B 870 with conditioners and extra wide cross conveyor belts has a versatile range of applications. This machine enables you to cut, condition and spread or swath the material in one single pass.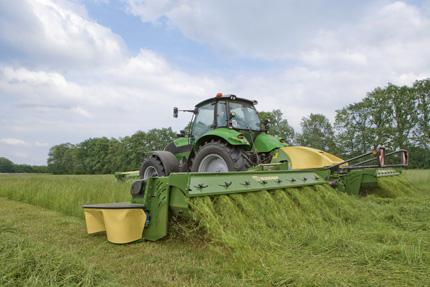 EasyCut B 1000 CV · B 1000 CR - Featuring conditioners and KRONE Combi Float suspension control
High work rates from up to 10.10 m working widths
EasyCut B 1000 CV with steel tine conditioner
EasyCut B 1000 CR with an aggressive roller conditioner
Hydro-pneumatic compensation for uniform ground pressures
A standard break-back system gives effective protection
The EasyCut B 1000 CV and EasyCut B 1000 CR stand out for a huge 10.10 m work width and their powerful CV or CR conditioners. Another high-profile feature is the world-first Combi Float – the automatic and hydro-pneumatic control system.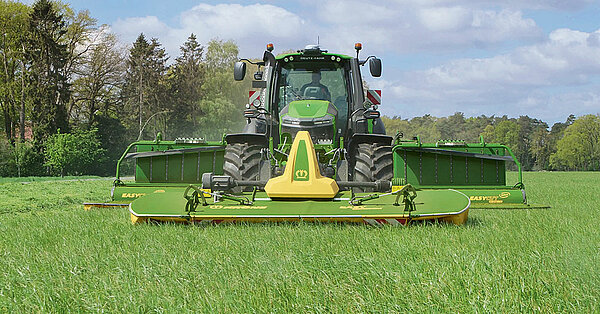 EasyCut B 1000 CV · B 1000 CR – Accurate overlaps
Hydraulic overlap adjustment
Large setting range of up to 40cm per side
Cleanest cuts in bends and on slopes
The standard hydraulic side shift feature on the rear mounted mower eliminates any striping and maximizes efficiency. Cutting straight lines, the machine operates at the maximum width and minimum overlap, whereas larger overlaps and a narrow working width is selected when cutting curves. As you operate on the slope, simply retrieve a stored sideshift range to the right or left and avoid drifting and striping.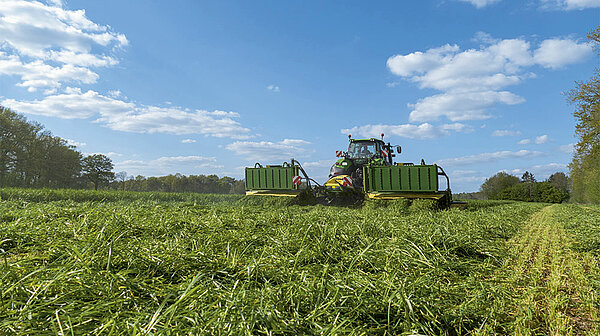 EasyCut B 1000 CV · B 1000 CR – Excellent handling in all situations
Convenient headland function by fingertip control
Safe road travel: 4.00 m transport height and less than 3 m transport width
Great operator comfort: Compact on the tractor, adjustable tractor-machine distance
Minimum space requirement by storing in transport position
The side mowers are retract automatically so that the transport height of 4.00 m is not exceeded. An automatic transport locking system provides for safe road travel and is activated as the rear mowers are shifted to the middle.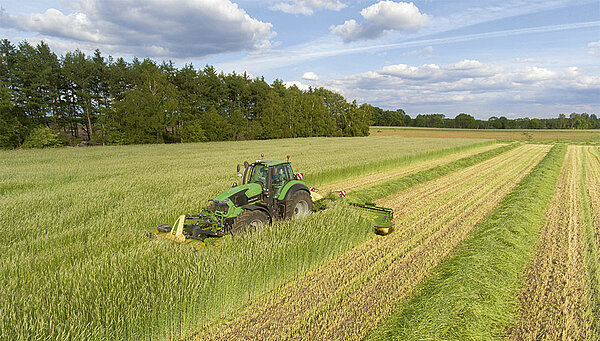 EasyCut B 870/1000 CV and CR Collect – The mower combinations with optional conditioners and auger conveyors
Extra wide cross conveyor belts for continuous flow even in high volumes of crop
Each belts can be raised individually, providing one of the three swathing modes available: wide spreading, partial width swathing or single swathing
Belts shut off and on automatically when raised and lowered
The Collect system with cross conveyor belts makes EasyCut B 870 CV and B 1000 CV with steel tine conditioners and EasyCut B 870 CR and B 1000 CR with roller conditioners versatile machines that spread the material across the working width or produce one central or two individual swaths. The powerful conveyor belts handle even the heaviest crops most effectively.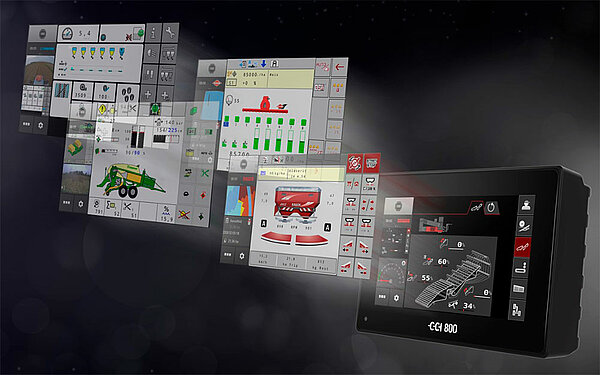 Operation - Tailored to your tractor
Convenient for operators
Clear concept
Easy
The Butterfly combinations EasyCut B 880 CV and CR Collect, B 950 Collect and B 1000 CV and CR (Collect) are available either with the electrical PreSelect operation or the ISOBUS Comfort control unit, which is the standard for the EasyCut B 1050 CV (Collect). The ISOBUS-compatible devices comprise a large choice of terminals and intuitive-use control units. SectionControl, the new CCI 1200/800 and the tried and tested AUX joystick CCI A3 are just two examples of what's available.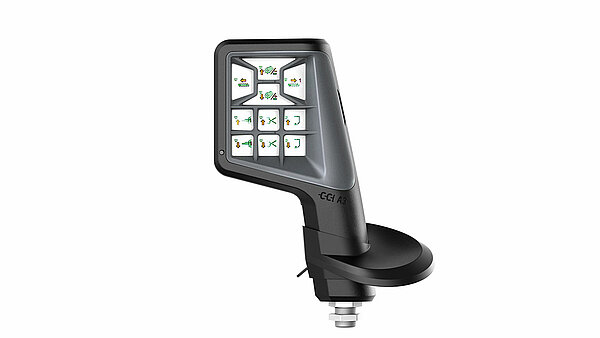 CCI A3 AUX Joystick
[Translate to EN (UK):] Der AUX-Joystick CCI A3 erleichtert die Bedienung und optimiert den Bedienkomfort. Da die Icons der Funktionen direkt auf dem Touchscreen des Joysticks angezeigt werden, hat der Fahrer stets den Überblick über die Bedienung der Maschine. Durch die austauschbaren Rahmen wird die Anordnung der Tastenfelder optimal an den jeweiligen Einsatz angepasst.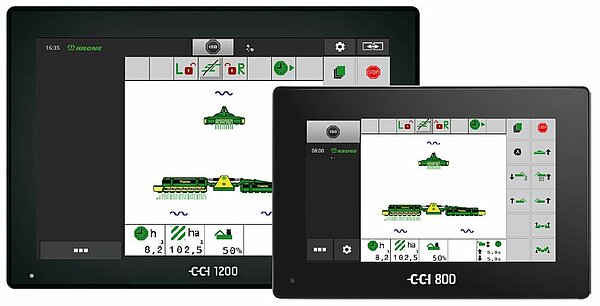 ISOBUS CCI 800 and CCI 1200 operator terminals
[Translate to EN (UK):] Bei den Bedienterminals CCI 800 und CCI 1200 sorgt ein 8" bzw. 12" großer Touchscreen mit Farbdisplay für höchsten Komfort. Neben der Hauptfunktion auf maximaler Größe werden gleichzeitig weitere Funktionen im Mini-Viewer angezeigt. Zusätzlich können diese Terminals mit Kameras, AUX-Joysticks sowie der Lizenz für SectionControl kombiniert werden.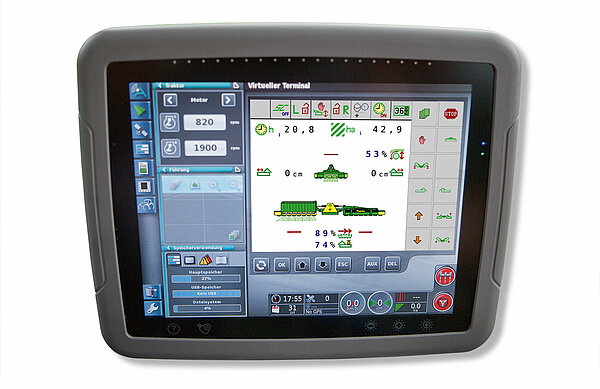 ISOBUS Comfort Control Unit
[Translate to EN (UK):] Die EasyCut B 880 CV und CR Collect, B 950 Collect und B 1000 CV und CR Collect können mithilfe der optionalen ISOBUS-fähigen Komfortbedienung über die traktoreigenen Terminals sowie das DS 500, CCI 800 oder CCI 1200 mit Touchscreen intuitiv und komfortabel über Load-Sensing bedient werden. Bei den EasyCut B 1050 CV (Collect) ist die Komfortbedienung bereits serienmäßig enthalten.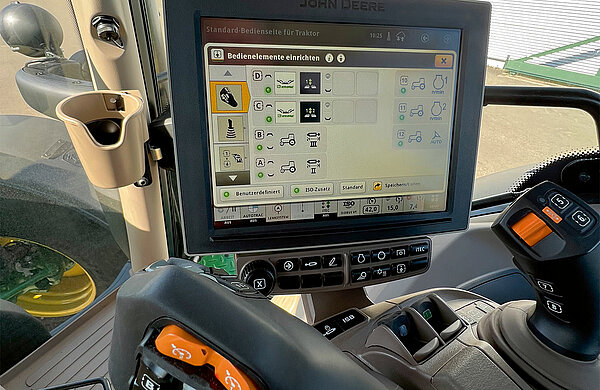 Integrated on the tractor
[Translate to EN (UK):] Mithilfe von KRONE PreSelect Digital können die Vorwahl der Funktion und die Betätigung des Steuergeräts über die AUX-Tasten des ISOBUS-fähigen Fahrhebels des Traktors ausgeführt werden. So können alle Traktor- und Maschinenfunktionen bequem auf einem Joystick ohne Umgreifen bedient werden.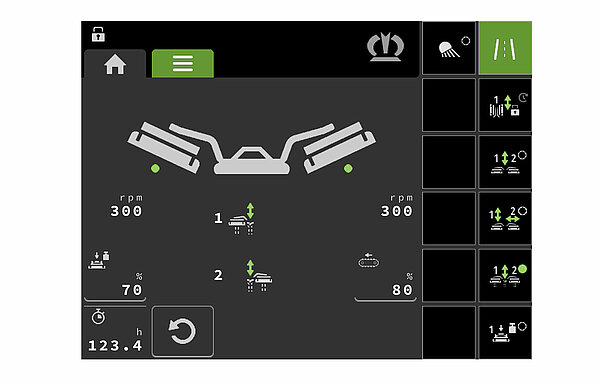 PreSelect Digital as an alternative
[Translate to EN (UK):] Das KRONE PreSelect Digital erfüllt grundsätzlich die gleichen Aufgaben wie das KRONE PreSelect DS 50. Der Unterschied besteht darin, dass durch die Kabelverbindung zwischen Anbaugerät und ISOBUS-Steckdose des Traktors die Ansicht und Vorwahl auf einem ISOBUS-Terminal ausgeführt werden. Es besteht die Möglichkeit, zwischen dem PreSelect DS 50 und PreSelect Digital zu wechseln. PreSelect ist verfügbar für B 870, B 1000, B 880 CV/CR (Collect) und B 950 Collect.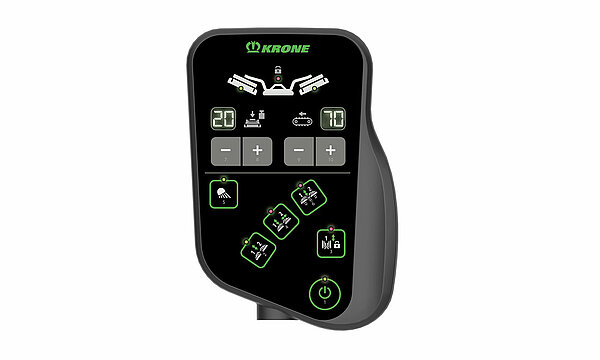 PreSelect DS 50 operation
[Translate to EN (UK):] Mit dem KRONE PreSelect DS 50 werden hydraulische Funktionen der angeschlossenen Anbaugeräte vorgewählt und anschließend mit den traktorseitigen Steuerventilen betätigt. Elektrische Funktionen wie der Auflagedruck der Mähwerke werden direkt angezeigt und sind über Tasten anzupassen. Der Anschluss erfolgt über eine Direktverbindung zur Schnittstelle der Maschine und wird über einen 12V-Stecker in der Kabine mit Spannung versorgt.
EasyCut B
EasyCut B 870
EasyCut B 1000
EasyCut B 950 Collect
EasyCut B 870 CV
EasyCut B 870 CV Collect
EasyCut B 1000 CV
EasyCut B 1000 CV Collect

Working width (m)

8.31 - 8.62
9.28 - 10.10
9.45
8.70
8.70
9.30 - 10.10
9.30 - 10.10

configure

Transport height at 250/200 mm ground clearance (m)

3.60
4.00
4.00
3.80
3.80
4.00
4.00

configure

No. of discs

10
12
12
10
10
12
12

configure

No. of top hats

4
4
4
4
4
4
4

configure

Input power (kW/hp)

88 / 120
100 / 140
145 / 200
110 / 150
125 / 170
130 / 180
145 / 200

configure

configure

configure

configure

configure

configure

configure

configure