EasyCut B 870 and B 1000 without conditioner
EasyCut B 750, B 890, B 970 without conditioner
EasyCut B 950 Collect without conditioner, with merger augers
EasyCut B 870 CV and B 1000 CV with steel tine conditioner
EasyCut B 870 CR and B 1000 CR with roller conditioner
EasyCut B 870 CV Collect and 870 CR Collect, B 1000 CV Collect and B 1000 CR Collect with merger belts
KRONE quick-change blades
KRONE SafeCut: Individually protected discs
KRONE SmartCut: Stripe-free cutting
KRONE CombiFloat: Uniform ground pressure across the entire work width
Operator comfort to the max
Product video
EasyCut B – KRONE mower combinations
Introducing the new EasyCut B 870 and EasyCut B 1000, KRONE adds two models to its range of butterfly combinations. Compared with the previous butterfly mowers without conditioners, the new models stand out for a modern design and curved styling, taut curtains and an optimised weight thanks to a new headstock.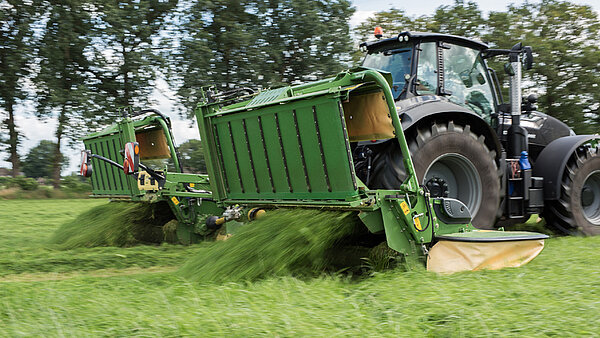 KRONE mower combinations for maximum efficiency
EasyCut B 870 and B 1000 without conditioner
EasyCut B 750, B 890, B 970 without conditioner
EasyCut B 950 Collect without conditioner, with merger augers
EasyCut B 870 CV and B 1000 CV with steel tine conditioner
EasyCut B 870 CR and B 1000 CR with roller conditioner
EasyCut B 870 CV Collect and 870 CR Collect, B 1000 CV Collect and B 1000 CR Collect with merger belts
KRONE quick-change blades
KRONE SafeCut: Individually protected discs
KRONE SmartCut: Stripe-free cutting
KRONE CombiFloat: Uniform ground pressure across the entire work width
Operator comfort to the max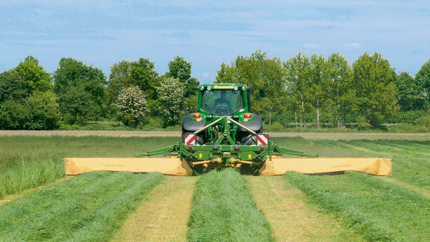 The KRONE cutterbar
Fully welded: Robust, sealed and permanently lubricated
The durable satellite drives have massive spur gears for quiet running and superior efficiency
No inner shoe for trouble-free cutting
The enclosed and fully welded cutterbar meets the highest quality standards and operates dependably and leak-free over many years of hard work. Massive and oil-immersed spur gears impress by very quiet and reliable running in sustained peak-load operation.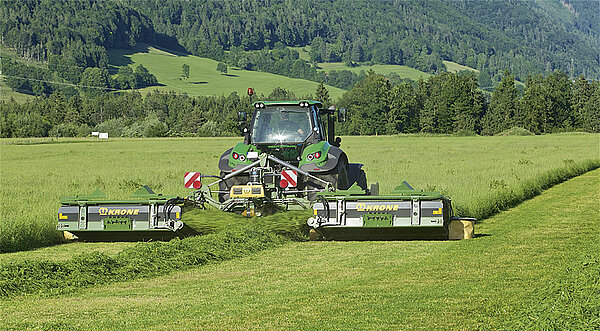 KRONE SmartCut for a perfect spread - Making clean cuts and spreading or swathing to needs
KRONE SmartCut for a perfect spread
Making clean cuts and spreading or swathing to Needs
"The wedge-shaped cutterbar guarantees clean cuts
"Heavy-duty spur gears run in double bearings. Widely spaced bearings.
"Swathing or spreading depending on needs
The wedge-shaped cutterbar offers great flexibility to adjust through a large range of settings and leave a short stubble in meadows and pastures as well as long stubble in long-stemmed field crops. An EasyCut mower delivers a reliable performance and clean cut.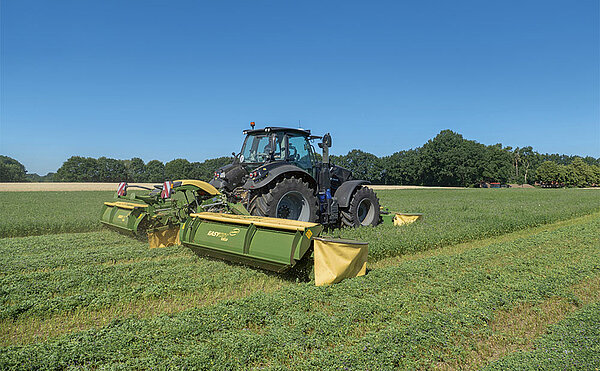 The KRONE quick-change blade system
Quick-change blades are standard specification, allowing operators to swap blades in the field quickly
Modular disc design
Minimum blade wear: 360° blade Action
Excellent cuts from SmartCut: Optimum blade overlap
There are many reasons for choosing an EasyCut disc mower. Just think of the quick-change blades, the inexpensive wear parts and the perfect disc arrangement for stripeless cuts.
The KRONE SafeCut system
The KRONE SafeCut System
"Full driveline protection for added reliability
"Neighbouring discs will not collide
"Wear-free
"Quick-change roll pins for minimum downtime and costs
Colliding discs may cause damage and involve costly repairs. KRONE SafeCut offers a maximum of protection and peace of mind. The award winning system on all EasyCut models offers a unique level of protection and operator comfort. SafeCut is a base specification feature on all EasyCut F and R models.
The KRONE DuoGrip centre-of-gravity suspension
Patented DuoGrip attachment:
Mounted in the centre of gravity and controlled by parallel arms
Uniform ground pressure across the entire work width
Excellent guidance: less side thrust, clean cuts
Continuous suspension for superb contouring and sward protection
The KRONE DuoGrip suspends the mower in its centre of gravity and guides it via two arms. This design allows the cutterbar to follow the ground contours even more accurately for a better protection of the sward. and high-quality forage even in difficult conditions.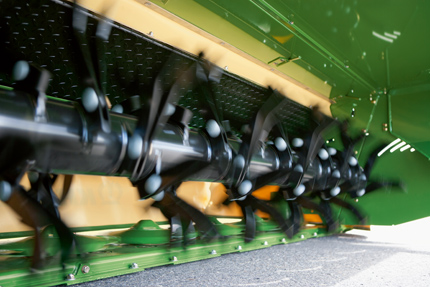 The KRONE CV tine conditioner
V-shaped steel tines at steep angles give intensive and perfect conditioning
The driveline dispenses with belts for frictional and low-maintenance Connections
Great operator comfort from mechanical conditioner gearbox
Adjustable baffle plates for enhanced conditioning
Efficiency is one parameter in hay and forage harvesting, quality is another. The high-performance KRONE CV conditioner with V-shaped steel tines spreads the crop at the full working width. The 640 mm diameter rotor and the helical arrangement of the tines warrant a continuous crop flow, high throughputs and superior conditioning.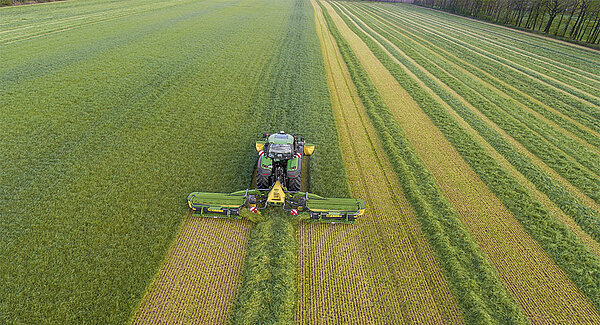 The KRONE Collect system
Mower conditioners merge the crop flow from two machines into one central swath
Variable swath widths are provided by steplessly adjustable accelerator rollers
On-board hydraulic System
The merger belts can be raised separately
Moulded deflector plates ensure a loss-free transfer of the crop
Extra wide 910 mm cross belts handle large volumes of crop
The KRONE Collect system offers multiple setting options that suit the most diverse applications around the world. The Collect merger belts deliver clean and perfect swaths that are easily picked up by the following harvester for loss-free harvests.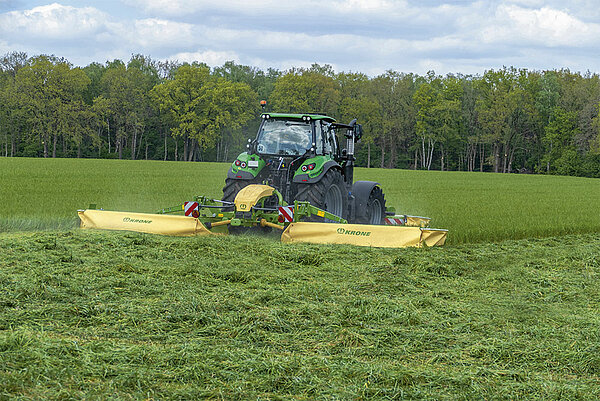 EasyCut B 870 · B 1000 - Butterfly combinations without conditioners
Variable, up to 10.00 m work widths on EasyCut B 1000
Weight-optimized headstock reduces rear axle weight and ground pressure.
Adjustable non-stop break-back system is a standard feature
SmartCut and SafeCut ensure perfect cuts and maximum uptime
Hydraulic suspension is as a standard feature
The EasyCut B 870 and B 1000 are two high-capacity mower combinations. They feature leading edge technology and a new styling plus a weight-optimised headstock with hydraulic suspension that helps protect the sward and also attaches to smaller tractors.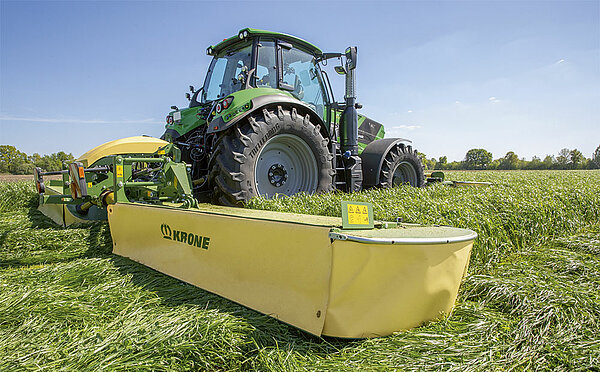 EasyCut B 870 · B 1000 - Easy and convenient setup
The mower arms adjust to one two positions (EasyCut B 870) or infinitely variably (EasyCut B 1000) to provide optimum overlapping
Optimum overlapping eliminates striping in curves and on slopes
Hydraulic ground pressure control conveniently from the cab
EasyCut B 870 and B 1000 are no-compromise machines. The infinitely variable arm length control adapts overlaps to the current conditions without compromising on acreage and output.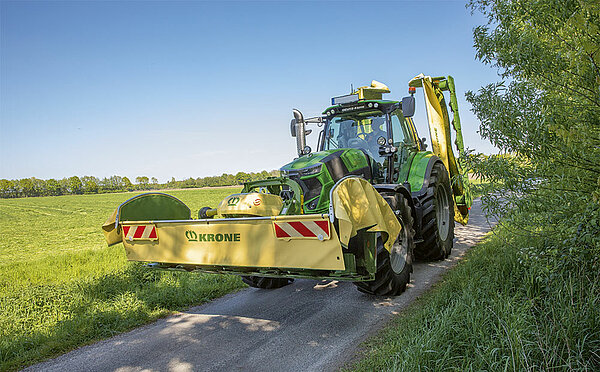 EasyCut B 870 · B 1000 - Easy use
Safe road travel thanks to 95° transport angle. Less than 4 m transport height and 3 m width.
Compact storage position on sturdy stands
LED lights and reflecting warning panels are standard specification
The carefully designed folding mechanism makes for a compact storage position. Road travel is safe, too thanks to the compact transport dimensions.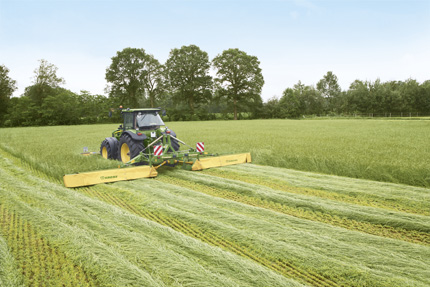 EasyCut B 750 · B 890 · B 970 - Adjustable overlaps
EasyCut B 890 and B 970 offer overlap adjustment without tools
Generous overlaps and clean cuts in bends and on slopes
No fiddling with transport height
EasyCut B 890 and EasyCut B 970 operators can change the distance between the two side mowers for stripeless cuts on slopes and in bends. The standard telescoping arms adjust the wings to overlap up to 45 cm with the 3.16 m KRONE front mower. The feature ensures clean and loss-free cuts utilizing the machine at its full span in large and flat fields.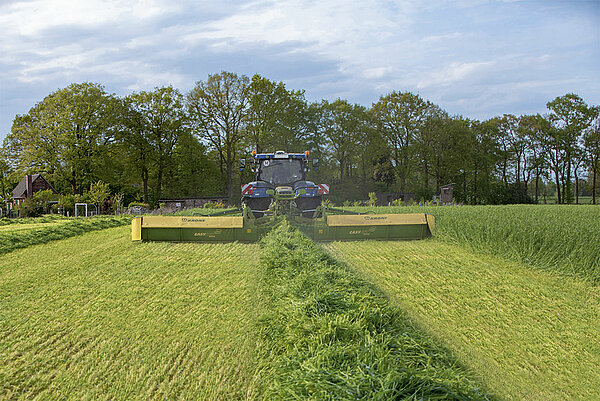 EasyCut B 950 Collect - The mower combination without conditioner but with merger augers
Light-weight and compact mowers without conditioners
9.45m working width including front mower
Massive augers merge the swaths
Three swathing modes are selected from the cab: central swathing, independent swathing and no swathing
Hydraulic mower suspension controlled from the cab

The EasyCut B 950 Collect is a very compact combination that has merger augers but no conditioners. The massive augers merge large volumes of crop such as green rye into a uniform and clean swath.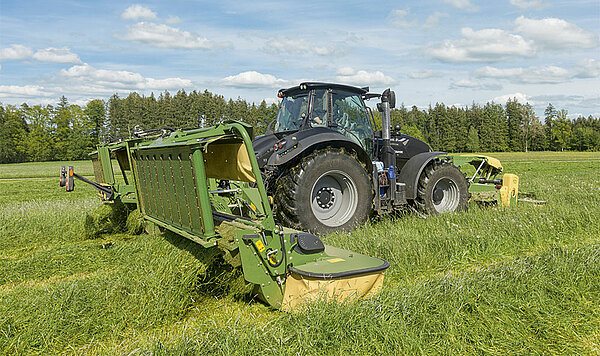 EasyCut B 870 CV · B 870 CR - The mower combinations with conditioners
"8.70 m work width
"EasyCut B 870 CV with tine conditioner
"EasyCut B 870 CR with roller conditioner (rubber rollers or M-Rolls)
"A balancing arm ensures the ground pressure is uniform on either side
"A standard break-back system gives effective protection
EasyCut B 870 CV and CR utilize the tractor to the full and save time and costs. The versatile model is the EasyCut B 870. Featuring conditioners and extra wide merger belts, this machine enables you to cut, condition and spread or swath the material in one single pass.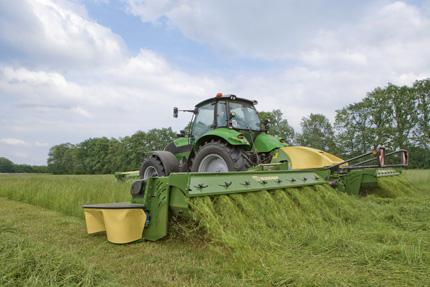 EasyCut B 1000 CV · B 1000 CR - Featuring conditioners and KRONE Combi Float suspension control
High work rates from up to 10.10 m working widths
EasyCut B 1000 CV with steel tine conditioner
EasyCut B 1000 CR with an aggressive roller conditioner
Hydro-pneumatic compensation for uniform ground pressures
A standard break-back system gives effective protection
The EasyCut B 1000 CV and EasyCut B 1000 CR stand out for a huge 10.10 m work width and their powerful CV or CR conditioners. Another high-profile feature is the world-first Combi Float – the automatic and hydro-pneumatic control system.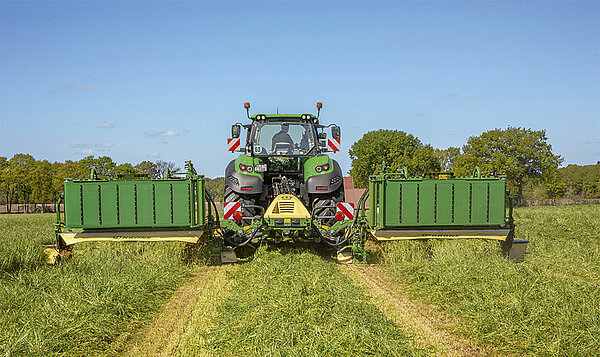 EasyCut B 1000 CV · B 1000 CR - Accurate overlaps
"Hydraulic overlap Adjustment
"Large setting range of up to 40cm per side
"Cleanest cuts in bends and on slopes
The hydraulic sideshift feature on the side mowers eliminates any striping and maximizes efficiency productivity. The feature is standard specification. Cutting straight lines, the machine operates at the maximum width and minimum overlap, whereas larger overlaps and a narrow work width is selected when cutting curved lines. As you operate on the slope, simply retrieve a stored sideshift range to the right or left and avoid drifting and striping.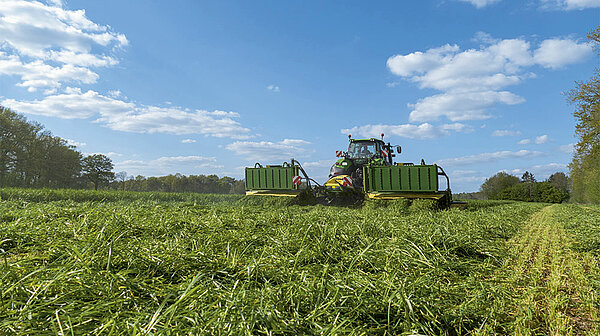 EasyCut B 1000 CV · B 1000 CR - Excellent handling in all situations
Excellent handling in all situations
Convenient headland function by fingertip Control
Safe road travel: 4.00 m transport height and less than 3 m transport width
Great operator comfort: Compact on the tractor, adjustable tractor-machine distance
Minimum space requirement by storing in transport position
As they fold into transport position the side mowers retract automatically so the statutory 4.00 m transport height is not exceeded. An automatic transport locking system provides for safe road travel and is activated as the rear mowers are shifted to the middle.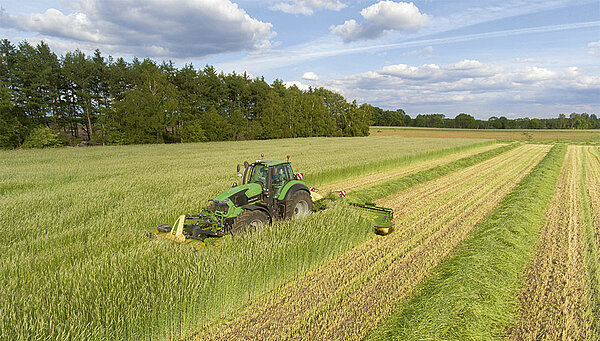 EasyCut B 870/1000 CV and CR Collect - The mower combinations with optional conditioners and merger augers
Extra wide merger belts ensure a continuous flow even in high volumes of crop
Each belts can be raised individually, providing one of the three swathing modes available: central swathing, independent swathing or no swathing
Belts shut off and on automatically when raised and lowered
The Collect system with merger belts makes EasyCut B 870 CV and B 1000 CV with steel tine conditioners and EasyCut B 870 CR and B 1000 CR with roller conditioners versatile machines that spread the material across the working width or produce one central or two individual swaths. The powerful belts handle even the heaviest crops most effectively.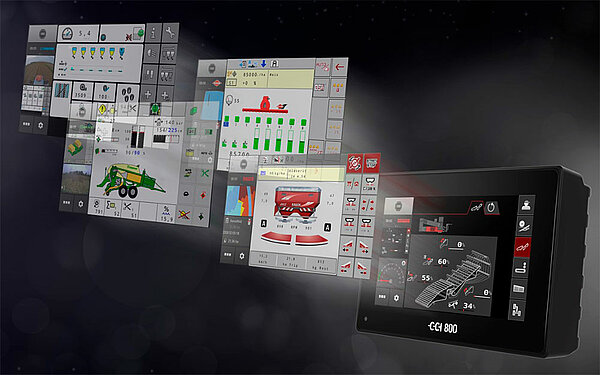 Operation - Tailored to your tractor
Controls Units
"Convenient for Operators
"Clear Concept
"Easy
The B 1000 CV/CR (Collect) gives you the choice of operating it from a simple electric pre-select box that is also used on the other EasyCut Butterfly models or from an ISOBUS-compatible device. The ISOBUS-compatible devices comprise a large choice of terminals and intuitive-use control units. SectionControl, the new CCI 1200/800 and the tried and tested Aux joystick WTK are just two examples of what's available.
EasyCut B
EasyCut B 870
EasyCut B 1000
EasyCut B 950 Collect
EasyCut B 870 CV
EasyCut B 870 CV Collect
EasyCut B 1000 CV
EasyCut B 1000 CV Collect

Working width (m)

8.31 - 8.62
9.28 - 10.10
9.45
8.70
8.70
9.30 - 10.10
9.30 - 10.10

configure

Transport height at 250/200 mm ground clearance (m)

3.60
4.00
4.00
3.80
3.80
4.00
4.00

configure

No. of discs

10
12
12
10
10
12
12

configure

No. of top hats

4
4
4
4
4
4
4

configure

Input power (kW/hp)

88 / 120
100 / 140
145 / 200
110 / 150
125 / 170
130 / 180
145 / 200

configure

configure

configure

configure

configure

configure

configure

configure