The all-rounder for any type of crops
Select from 3 different press connector systems
Fixed chamber was a convincingly simple design
Semi-variable for maximum flexibility
Fully variable for baling all bale sizes
Also available as a combination bale wrapper
NovoGrip slat and belt conveyor, the turning and compaction system for all crops
Camless EasyFlow pick-up with w-lined tines
Available with feed rotor or cutting system (17 or 26 blades)
High throughputs from a massive cut-and-feed rotor
Available with net wrap or peripheral film wrap system
Easy and fast servicing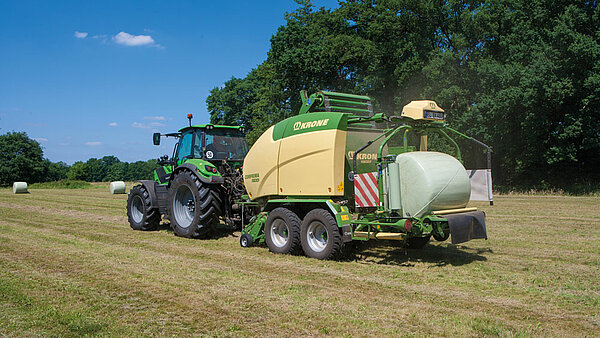 Comprima – Round balers and combination baler wrappers
Three chamber systems: Fixed, semi-variable and variable
Camless EasyFlow pick-up with w-lined tines: For clean rakes and low wear on the tines
The cut-and-feed rotor: 530mm diameter for maximum throughputs
The precision cutting system: For smooth and precision cuts
NovoGrip system: Guarantees effective bale roll and compression in any type of crop
Straightforward design and servicing for minimum maintenance
The Comprima from ­KRONE features a unique baling technology. The NovoGrip chain and slat conveyor bales all types of crops. In combination with an extremely powerful intake system, the machine produces high-density bales at high throughputs.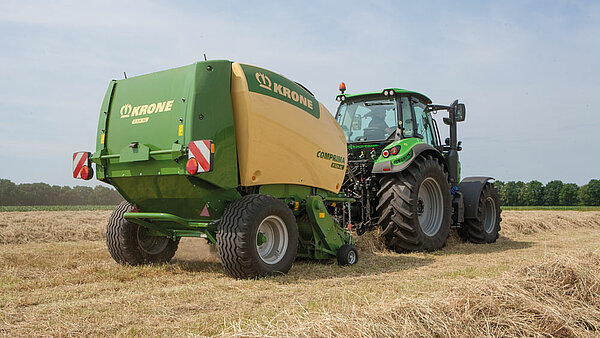 The Comprima with fixed chamber
The round baler - Comprima F 125
The round baler with cutting system - Comprima F 125 XC
Meeting user demands – 1.25 m diameter bales
Reliable and simple - clutter-free build, enormous stability
Sharp – XCut cutting system
The KRONE fixed-chamber round balers Comprima F 125 and F 125 XC convince with their simple, clear-cut and robust design, high stability, extra operator comfort and ease of maintenance.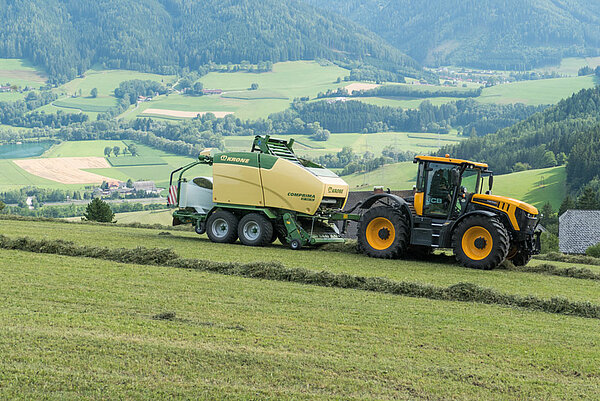 The Comprima with semi-variable bale chamber
The round baler - Comprima F 155 (XC)
The baler wrapper - Comprima CF 155 XC
Flexible – choice of six bale sizes and 1.25-1.50 m diameters
Affordable – Simple design
Sharp - the XCut cutting system
The KRONE Comprima F 155 (XC) and CF 155 XC are fixed-chamber round balers with semi-variable bale chamber. They bale highly compacted, dimensionally stable bales of 6 different diameters. This technology is unique on the market. They are also very cost-effective and exceptionally easy to operate and service – thanks to their uncluttered build and design. With their sturdy frame, the balers are also extremely robust and versatile. Whether silage, hay or straw – the all-round talent transforms all types of crops into bales of a consistently high quality.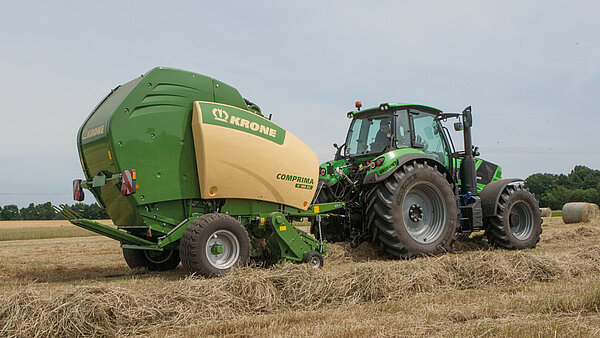 The Comprima with variable bale chamber
The round balers – Comprima V 150 XC and V 180 XC
The baler wrapper – Comprima CV 150 XC
Variable – Producing 1.00-1.80 m diameter bales infinitely variably
Cost-effective – the simple and uncluttered design
Sharp – the XCut cutting system
Uncompromising stability for great flexibility and continuous use under tough conditions are the distinguishing features of the KRONE Comprima V and CV. They allow operators to set bale diameters steplessly from 1.00 m to 1.80 m to suit different crops, conditions and customer requirements.
The KRONE bale chambers – fixed, semi-variable or variable
Matching – The bale chamber which matches the customer's requirements
Fixed chamber - 1.25 m diameter bales
Semi-variable – Six different bale diameters from 1.25 m to 1.50 m
Variable – producing infinitely variable 1.00-1.50 m diameters or 1.80 m diameters.
Offering a choice of fixed chamber, semi-variable or variable bale chamber, the round balers of the Comprima series are particularly flexible and match all customers' requirements.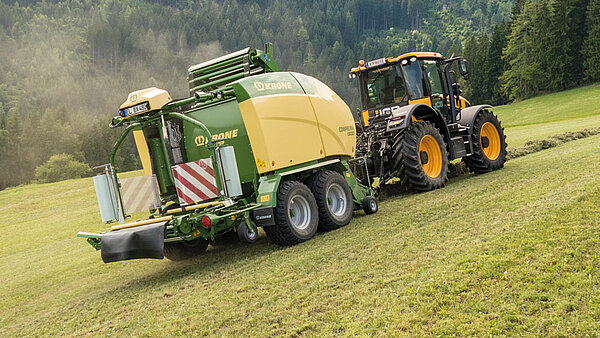 The hitch options and the running gears
Variable - hitch ring or ball attachment
More options - single or tandem axle
Three options - the tyre sizes
Every day, a Comprima has to deal with fast road travel, uneven ground, yielding grounds, and manoeuvring in narrow spaces. KRONE Comprima models come with an air brake and various tyre options. Perfectly specified to meet all customer requirements, they are available with two different hitch systems, a single or tandem axle.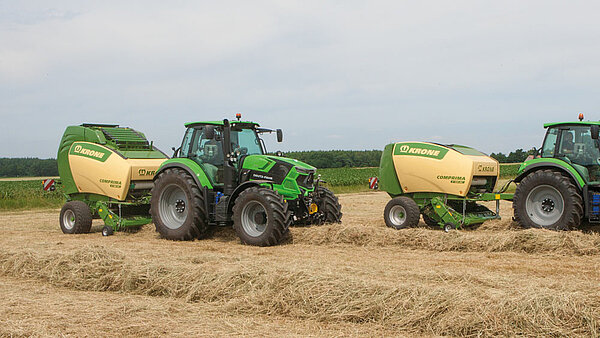 The KRONE EasyFlow pick-up
Safe – 6 mm thick double tines with large diameter coils
Well-balanced – The rows of tines arranged in wave shape clear the field evenly
Clean – The extra-wide pick-up drum clears the crops off the field completely
Simple and effective - no cam track means fewer moving parts, less service and maintenance and extremely quiet running
The EasyFlow pick-up pivots sideways and is known as the pick-up that clears the field effectively even in the most difficult conditions and at high work rates. More than that, its rugged build with very few moving parts gives an exceptionally dependable performance.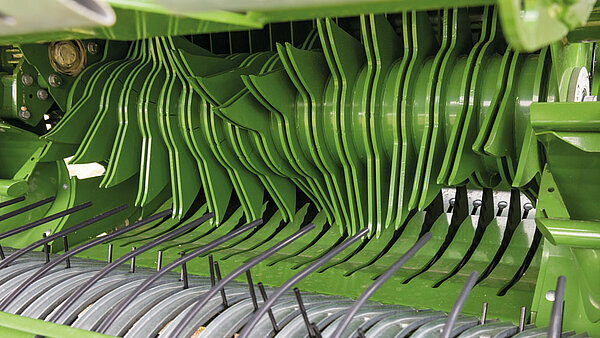 The KRONE feed rotor | The KRONE XCut cutting unit
Efficient – Large diameter
Quiet running - helical tine rows
Continuous flow - for a consistent crop feed
Sharp – Best cutting quality
The feed rotor and the cutting rotor of the XCut cutting unit are characterized by high throughput, smooth running and high reliability. Furthermore, XCut stands for excellent cutting quality. All Comprima balers have a drop floor as standard specification.
The KRONE NovoGrip slat and belt conveyor
Sturdy – Heavy-duty design
Maximum pressures - top bale densities
Smooth – More even and less noisy
Light and easy - for low input power
Saving time - no servicing required
The NovoGrip is an endless slat conveyor that is made up of rubber fabric belts that turn the crops into high-density and well-shaped bales. NovoGrip offers ultimate strength and longevity and forms perfect bales from the heaviest silage.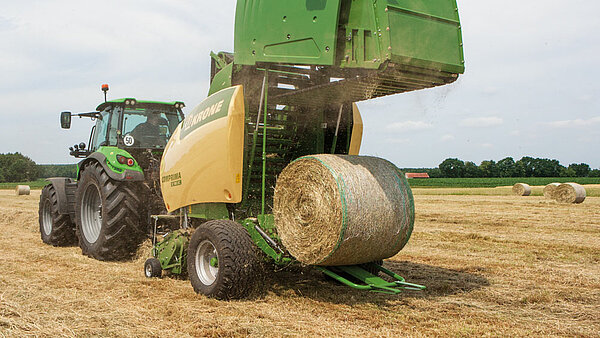 The KRONE tying unit
Variable – For net and base coat of film wrapping
Safe – Short distance of the wrapping material to the bale
Free view – The operator has an unimpeded view of the baling process
Comfortable – Automatic start of tying
Whether with net or base coat of film, the tying unit on a Comprima is extremely reliable and easy to use.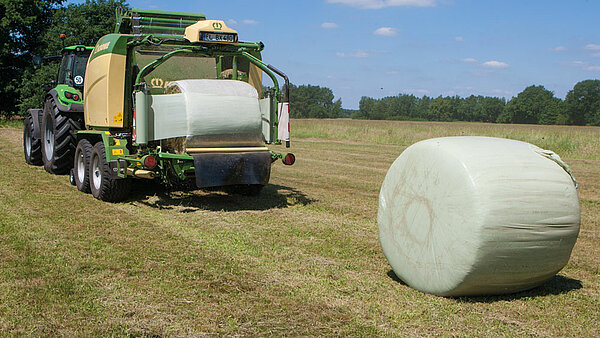 The KRONE wrapping device
Fast – Due to the powerful double wrapper
Functional – Safe bale drive on the bale table
Clean film cuts - by controlled blades
Safe – Wide overlapping of the wrap layers
The Comprima wrapper wraps the bales fast and reliably – even in difficult conditions and in sloping fields.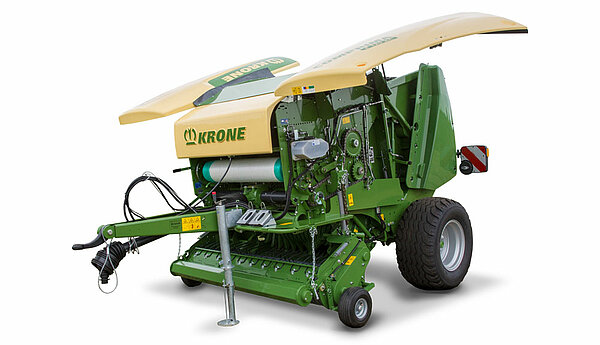 KRONE easy servicing
Efficient – Best accessibility for easy maintenance
Automatic lubrication - one lubricator attends to all chains
Time-saving – Central lubrication manifolds
Safe – Automatic chain tension
Designed for premium bale productivity and density, the Comprima also convinces by its uncluttered design and exemplary accessibility. These features make it particularly easy to service. Grease banks and the automatic chain lubrication system reduce the time that is required for service and maintenance to a minimum.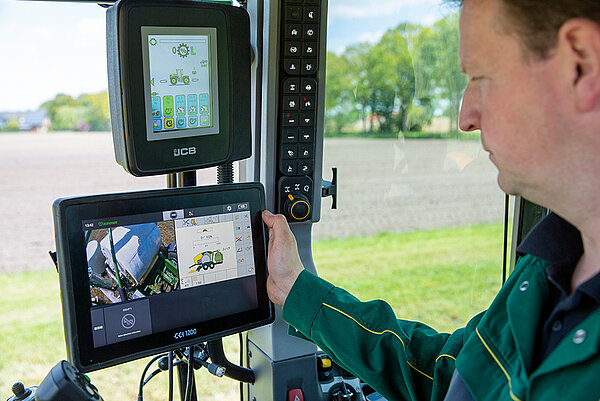 The KRONE operator terminals
Take your choice – our control units suit all needs
Convenient – clear and user-friendly interfaces
ISOBUS compatible – connecting with the tractor terminal
Trend-setting – Optimised operation
­KRONE offers a choice of four different terminals that cater for different applications and needs, making the Comprima round balers easier to use and notching up the work rate. All this makes the baler fun to use.
Comprima
Comprima F 125
Comprima F 155
Comprima V 150

Type

Round baler
Round baler
Round baler

configure

Bale size (m, Ø x width)

1.25 x 1.20
1.25 - 1.50 x 1.20
1.00 - 1.50 x 1.20

configure

Bale chamber

fixed
semi variable
variable

configure

Machine dimensions (m, L x W x H)

4.70 x 2.61 x 2.65
4.70 x 2.61 x 3.15
4.99 x 2.61 x 2.99

configure

Net wrapping

Standard
Standard
Standard

configure

Film wrapping

optional
optional
optional

configure

Pick-up working width (m)

2.15
2.15
2.15

configure

Power requirement (kW/hp)

48 / 65
51 / 70
51 / 70

configure

configure

configure

configure
Comprima XC
Comprima F 125 XC
Comprima F 155 XC
Comprima CF 155 XC
Comprima CV 150 XC

Type

Round baler
Round baler
Combination baler and wrappers
Combination baler and wrappers

configure

Bale size (m, Ø x width)

1.25 x 1.20
1.25 - 1.50 x 1.20
1.25 - 1.50 x 1.20
1.00 - 1.50 x 1.20

configure

Bale chamber

fixed
semi variable
semi variable
variable

configure

Machine dimensions (m, L x W x H)

4.70 x 2.61 x 2.65
4.70 x 2.61 x 3.15
6.57 x 2.96 x 3.41
7.24 x 2.96 x 3.08

configure

XCut cutting rotor 17 lades for the shortest cutting length (mm)

64
64
64
64

configure

XCut cutting rotor 26 lades for the shortest cutting length (mm)

42
42
42
42

configure

Net wrapping

Standard
Standard
Standard
Standard

configure

Film wrapping

optional
optional
optional
-

configure

Pick-up working width (m)

2.15
2.15
2.15
2.15

configure

Power requirement (kW/hp)

-
-
-
-

configure

configure

configure

configure

configure