BiG X 680 ∙ 780 ∙ 880 · 1180, the XXL forage harvesters from KRONE for outputs of 687hp to 1156hp. They not only impress by their high ­efficiency and chop quality but also by high operator comfort and easy handling.
High-power and fuel efficient engines from 687hp to 1156hp
6 intake rollers for boosted reliability and a top quality chop
MaxFlow chopping drums with 20, 28, 36 blades; Biogas drums with 40 and 48 blades
Roller and disc conditioners for all applications
KRONE VariLOC for flexible choice of long and short chops
KRONE VariQuick for fast changeovers to conditioning or grass cutting
Convenient hoop coupler for easy attachment to the base machine
Enormous agility from independent wheel suspension
Height-adjustable comfort cab for optimum visibility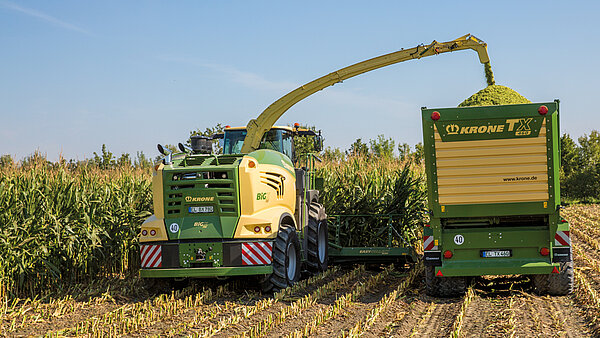 Forage harvesters
6 intake rollers for maximum reliability and best chop quality
MaxFlow chopping drums with 20, 28, 36 blades, biogas chopping drum with 40 and 48 blades
­­­KRONE VariLOC: flexible use in long and short cut
OptiMaxx roller conditioners with up to 305 mm diameter, 710 mm width and slanted teeth for intensive kernel conditioning
­­KRONE VariQuick: quick changeover for working with and without corn conditioner
­­KRONE VariStream: Continuous crop flow ensured by spring-loaded floors for chopping drum and discharge accelerator
Powerful and low-emission engines from 687 to 1,156 HP
Great manoeuvrability from independent wheel suspension: For extreme manoeuvrability
Height-adjustable comfort cab: For optimum visibility
BiG X 680 – 1180, these are the extra powerful forage harvesters from ­­KRONE with an output of 687 to 1,156 HP. They impress not only with their high output and chop quality, but also with their comfort and handling.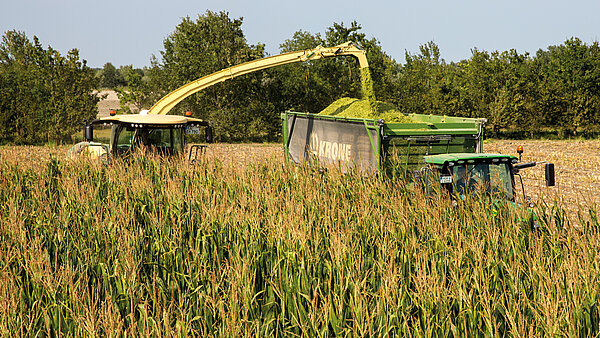 KRONE OptiMaize
KRONE chopping technology for optimum maize forage quality
OptiMaize S, M, L, XL for variable chopping lengths from 4 mm to 30 mm
KRONE MaxFlow and Biogas drums with different blade specifications combine for producing the
chops length you need
KRONE OptiMaxx roller conditioners ensure optimum fracturing and kernel treatment
KRONE VariLOC for flexible long and short chops without conversing the machine
OptiMaize brings full flexibility to all KRONE BiG X harvesters, allowing them to produce any type of chop length livestock farmers and Biogas producers call for. MaxFlow and Biogas drums are available with various numbers of blades and combine with matching KRONE conditioners to deliver perfect 4-30 mm (0.2"-1.2") chops and the most intensive treatment. The BiG X offers this wide range of chops without operators having to swap or refit the chopping drum – simply by reducing the cutting frequency with the help of VariLOC.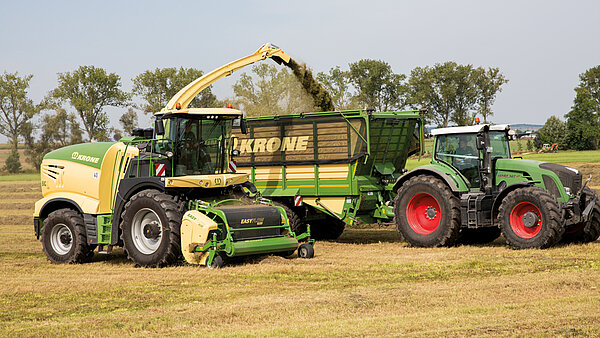 The crop flow
"Six intake rollers ensure a top-notch quality of chops
High throughput with universal and biogas drums
OptiMaxx roller conditioners for intensive kernel processing
Flexible chop lengths through VariLOC and the use of only half the number of blades
Continuous crop flow from VariStream
Variable crop throw is an option using StreamControl
Quick changeovers between corn and grass thanks to VariQuick
Its innovative technology makes the BiG X a superior chopper with respect to performance and quality. Chopping lenghts can be set to individual requirements by adjusting the speeds of the intake rollers and using different numbers of blades on the chopping drum. Highest through puts are implemented by the spring-loaded floor underneath the drum and a spring-loaded accelerator backplate which guarantee a continuous crop flow.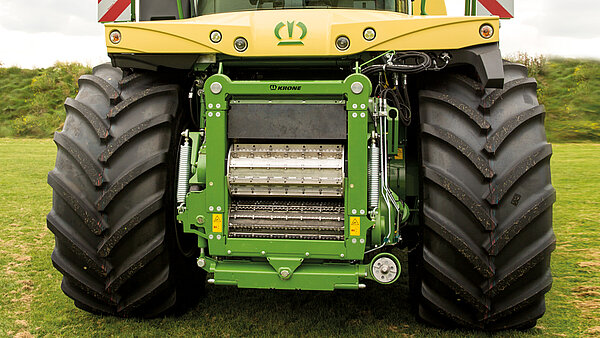 The intake system
Hydraulic drive: The chop length is steplessly adjustable from the cab
Automatic setting of the chop length via AutoScan or NIR sensor
6 pre-compression rollers for top-quality chops
Perfect protection from foreign objects: Long path from the metal detector to the chopping drum and metal detection across the entire width of the channel
On a BiG X, it is also the intake system that has an influence on the quality of chop. The six intake rollers continuously press the chopped material with high pressure so that it can be chopped more easily and precisely. The hydraulic drive of the infeed elements allows manual or automatic adjustment of the cutting length.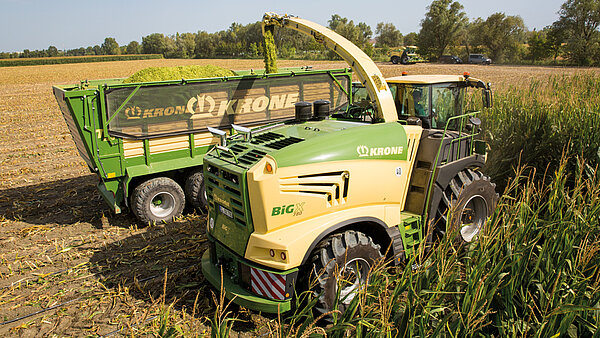 The KRONE chopping assembly
KRONE chopping drums with 20, 28, 36, 40 or 48 blades
High inertia: enclosed 660 mm (2'2") diameter drums
Bespoke 800 mm (2'7") wide drums for the BiG X 680, 780, 880 and 1180 models
Extremely fuel-efficient courtesy of a high inertia and pulling cuts

Matching the drum dimensions to the forager model and choosing the optimum number of blades not only boosts machine power but also makes the forager more flexible to suit more applications. The wide range of OptiMaize drums that are available for BiG X deliver top-quality chops in versatile applications anywhere in the world.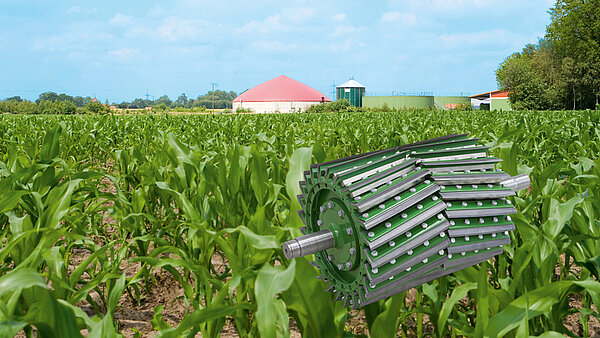 The KRONE Biogas chopping drum
40- and 48-blade Biogas drums for OptiMaize S results
High cutting frequency, fewer overlengths
Very economical: high throughput at low consumption
Short chops for high gas yields
The KRONE Biogas drum with 40 or 48 blades chop the material very intensively. OptiMaize S achieves very short chops which enable high throughputs both on the machine and in the fermenter, making BiG X a major factor in biogas plant productivity.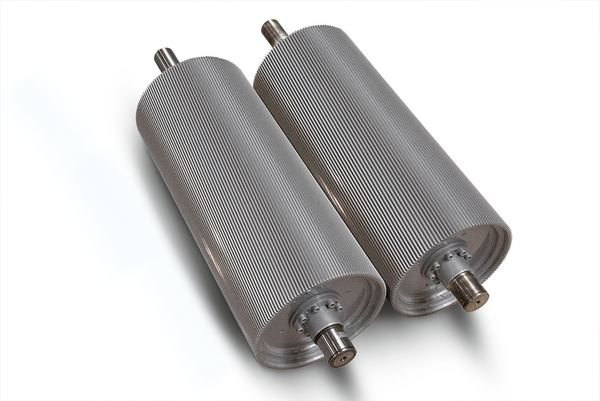 The KRONE OptiMAXX roller conditioners
OptiMaxx roller conditioners with 250 or 305 mm diameters
Slanted teeth for perfect conditioning to combine with OptiMaize S-XL drums
The gap between the rollers is conveniently adjusted from the cab
A strong spring assembly provides a consistent and high pressure
Maximum fracturing from an up to 50% speed difference (option)
BusaCLAD-Special coating technology for maximum service life
Every single kernel must be cracked to achieve an optimal digestibility. These user demands are perfectly met by the new OptiMaxx 250/305 roller conditioners with their slanted teeth, a new KRONE development.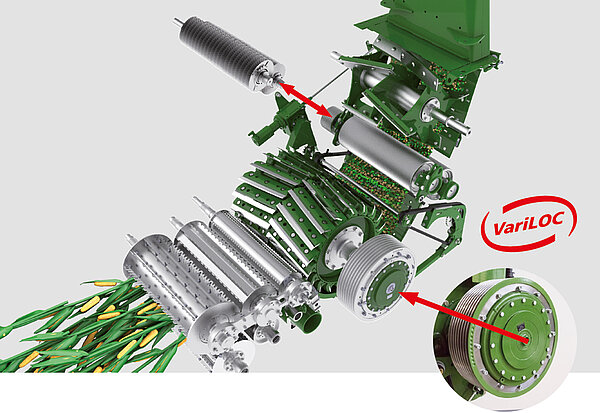 VariLOC
Optimaize is a versatile and unique system
Gearbox on the chopping drum switches flexibly from short cuts to long cuts
Switching the drum speed takes a few minutes
No downtime, no machine conversion, no up-front planning
Forming an integral part of the pulley, KRONE VariLOC is a gearbox that alters the speed of the chopping drum. By simply changing the drum speed from 1250 to 800 rpm using a standard open-end wrench, you can increase the chopping drum's LOC range by up to 50%. This system allows operators to momentarily change from short to long chops and vice versa and meet different customer needs without a major changeover - this is the concept of OptiMaize. In conjunction with the roller conditioner with 105/123 teeth or with the disc conditioner, this technology turns the BiG X into a real all-round forage harvester that offers its owner and user maximum flexibility.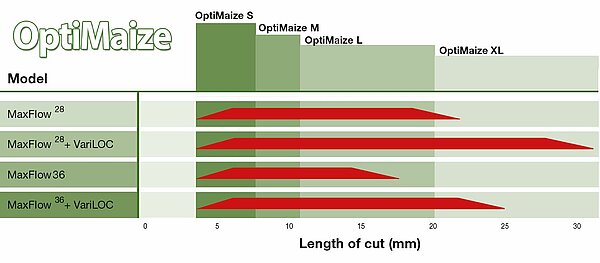 Great flexibility
The KRONE VariLOC is available for the MaxFlow drums with 28 and 36 blades. VariLOC is a mechanical gearbox that allows the MaxFlow chopping drum to produce the full range of chop lengths (OptiMaize S-XL) with 28 or 36 blades.
The ­­KRONE VariLOC is available for the ­­KRONE MaxFlow drums with 28 and 36 blades. VariLOC is a mechanical gearbox that allows the MaxFlow chopping drum to produce the full range of chop lengths (OptiMaize S-XL) with 28 or 36 blades.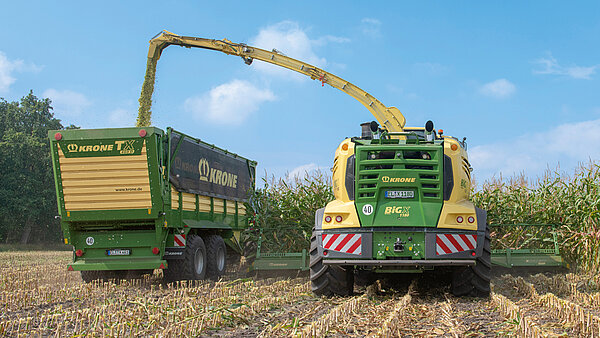 VariQuick
Fast changeovers from grass to corn conditioning and vice versa
A chain drive lowers the unit conveniently
The changeover takes just a few minutes
Fast and easy removal of the corn conditioner
VariQuick is the system that allows operators to converse BiG X very quickly from maize to grass. A chain drive (electric option) moves the corn conditioner out of or into the crop flow. If the corn conditioner is not used for longer periods of time, you can lower it and remove it from the machine by pulling it out to the side.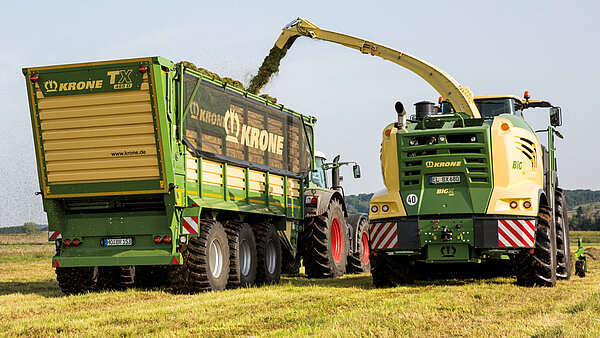 VariStream
Consistently smooth performance despite inconsistent crop flows
Extremely smooth running – also in lumpy swaths
High throughputs
Top quality chop
Operator comfort to perfection
KRONE VariStream comprises a spring-loaded floor beneath the chopping drum and a spring-loaded back plate in the crop accelerator housing.The system ensures blockage-free and smooth operation, even in varying volumes of crop. The technology allows operators to utilise the forager to its limit and use less fuel per hour.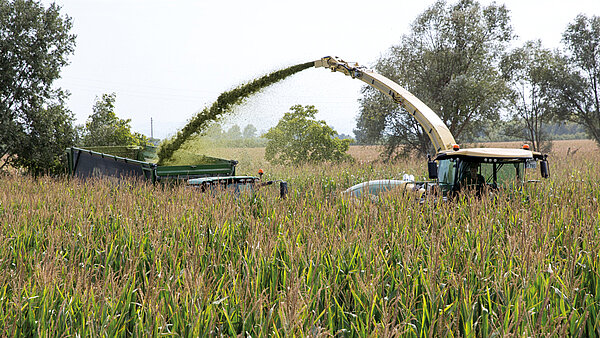 StreamControl
Adjustable discharge distance from the cab as an option
Tight crop stream even with a long crop throw
The shorter the crop throw, the less power is needed
Fills the transport wagon accurately without spillage
The crop throw is controlled from the cab by adjusting the door in the backplate on the crop accelerator.This way, operators can adjust the throw quickly to the current filling situation. As the accelerator needs less power to cover a short distance, the operator can free up engine output and use it for chopping and higher throughputs.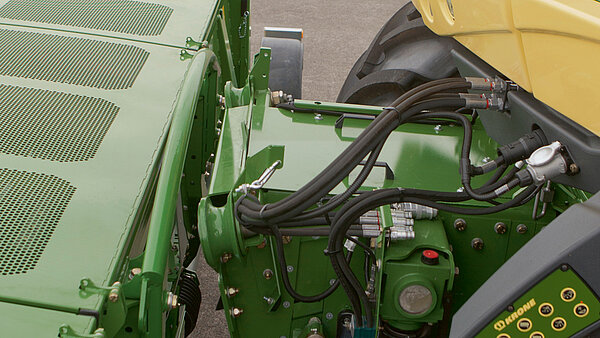 The KRONE headers
Headers are swapped easily
Convenient attachment and removal
Very short set-up times
Compact combination
Maximum safety
The multi-coupler system of the BiG X allows operators to couple headers fast, easy and dependably from the seat, reducing changeover times when preparing for road travel or different crops. This way, more time is spent on productive work.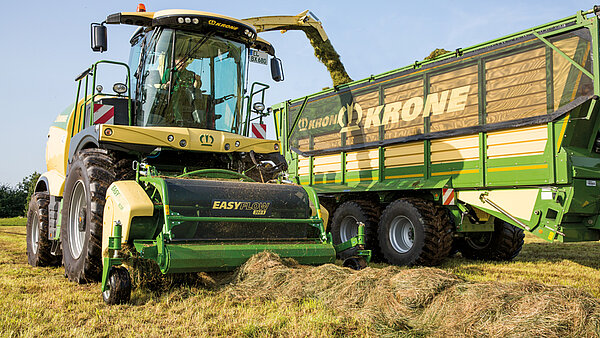 KRONE EasyFlow 300 S · 380 S
Hard wearing pick-up without cam track, six rows of tines in W-arrangement
Automatic pick-up speed adjustment to the current driving speed
Gauge wheels on the sides and at the rear ensure perfect ground following
Intake area lined with replaceable wear plates
Quick header attachment thanks to curved round steel bracket
The camless EasyFlow 300 S and 380 S pick-ups have neither guide rollers nor cam tracks. Compared with conventional pick-ups, EasyFlow has up to 58% fewer moving parts, which makes it impressively smooth running, low-wear and therefore inexpensive in service and maintenance. EasyFlow operates 30% faster for cleaner gathering and increased productivity.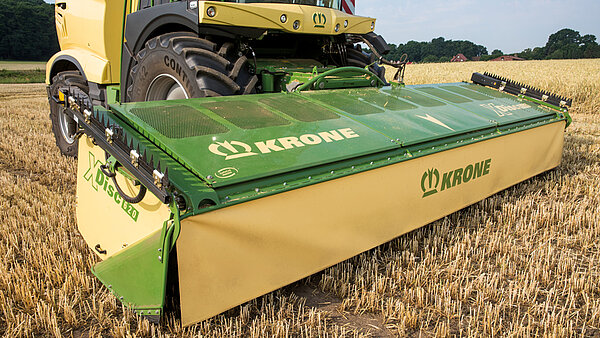 KRONE XDisc 620
Higher throughput at 6.2 m work width
The KRONE EasyCut disc mower technology proven the world over
KRONE SmartCut for clean cuts
Curved round steel bracket for fast attachment and removal and optimal ground following
Header trailer approved for 40 km/h
Based on the well-proven KRONE EasyCut cutterbar technology, the XDisc direct cutting system allows the BiG X to cut and chop whole crop silage in one operation, which features SmartCut cutting performance and quality and SafeCut impact damage protection.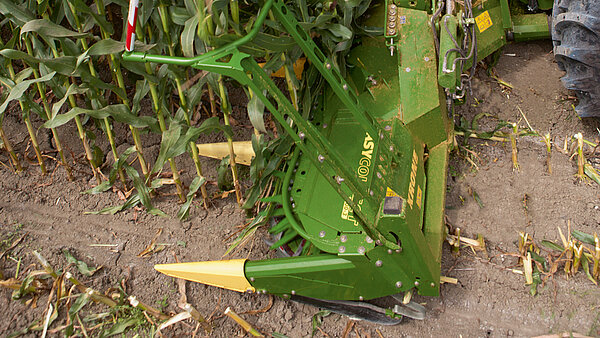 EasyCollect
Variable-row maize headers with 4.5m to 10.50m working widths
Best quality of chop, fewer overlength fractions from linear crop feed
Simple technology and low input power
The central gearbox
An extra running gear is available as an option for the two-piece EasyCollect model offering maximum road safety.
The variable-row EasyCollect header is a versatile unit that feeds the stalks lengthwise into the machine, which translates into an unsurpassed quality of chop. The unique collector principle from KRONE cuts labour costs and has proved its worth time and again the world over.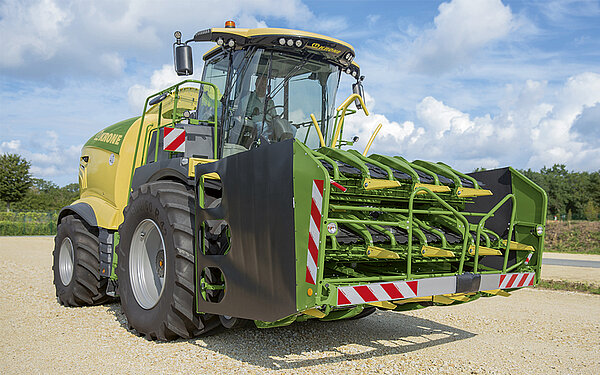 KRONE XCollect
Available work widths are 6 m, 7.5 m and 9 m
Variable-row harvesting with rotating sickle discs
Operates to the collector principle, splits the processes of cutting and feeding
A smooth and soft cut eliminates vibrations and crop loss
Operators adjust the cutting frequency infinitely variably to suit the prevailing harvest conditions
­­KRONE adds new XCollect maize headers to the long-standing and well-proven EasyCollect series. These units have two independent processes for cutting and conveying the crops. responding to customer demands to deal with diverse harvest conditions around the world.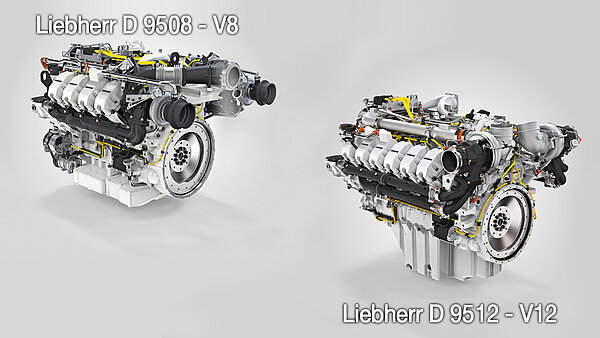 The engines
8- or 12-cylinder V-engines from Liebherr
Compact V design for transverse mounting
Final Tier 4 / Stage V compliant
687-1156 hp maximum continuous engine power
High efficiency and quiet running
Advanced Common-Rail engine technology from Liebherr suggests superior outputs and fuel economy. The engines stand out for optimum torques, quiet running, superb fuel economy and high efficiencies.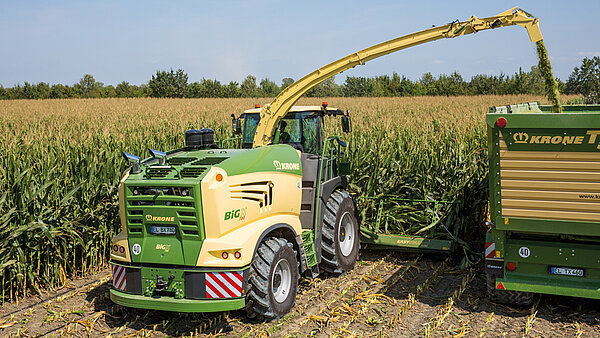 The driveline
Simple design
An extra-strong poly V-belt transmits engine power to the crop assemblies
Long service life
Separate drive for the intake rollers and the headers: Rollers and headers are reversible if the chopping
drum suddenly stops
Separate and dependable driveline to the ground drive pump
The transversely mounted engine allows the chopping drum and the crop accelerator to take engine power directly off a powerbelt. The engine also drives the pumps for the intake rollers and the header and also the pump for the ground drive and the assemblies. The power flows through a power take-off gearbox which uses a multiplate clutch to engage the assemblies.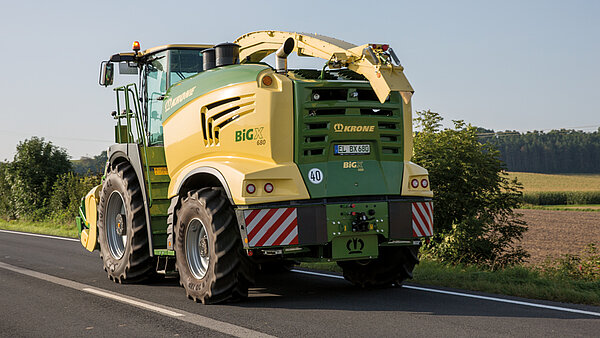 The running gear
Front-wheel drive is standard; four-wheel drive is an option
Powerful wheel motors from Bosch-Rexroth
Traction control with three travel modes
High ground clearance powertrain
Wheel motors offer greater productivity and a higher level of automation and operator convenience. At the same time, this type of power train reduces maintenance and frees valuable space to fit a bigger and more powerful chopping assembly and move this further to the rear of the machine.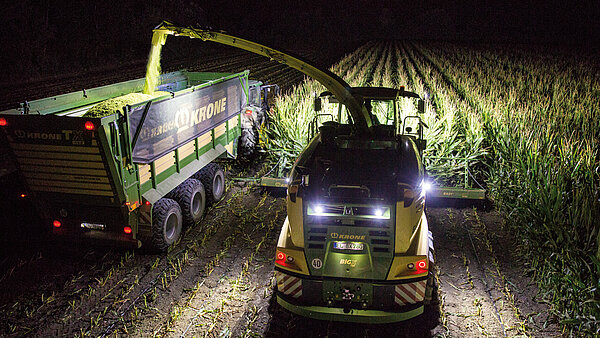 Kitted out perfectly
LED lights for best visibility at night
Optimum access to all service points
Large storage compartment for tools
Auto lubricator for more convenience
In the heat of harvest operators often work into the night.To ensure best visibility BiG X is equipped with a comprehensive light kit that turns night into day. Service and maintenance are made easy too thanks to wide opening side panels, an opening engine compartment cover, removable plastic mudguards and a ladder that swings out of the way to give easy access to all service points.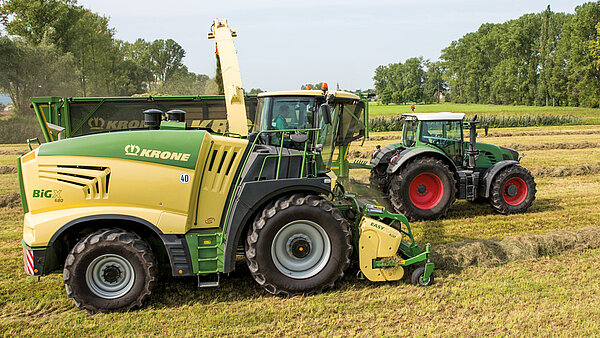 The KRONE multiple tank concept
Seven different tank systems are available for maximum flexibility
Customers can opt for more fuel or more silage additives
Integral silage additive applicator with small/large dose rates as an option
Maximum fill capacities for long working days

A system of several tanks allows customers to specify the reservoirs on the machine to their needs – fuel, silage additive and water tanks can be added and configured in as many as seven different arrangements that meet individual needs around the world.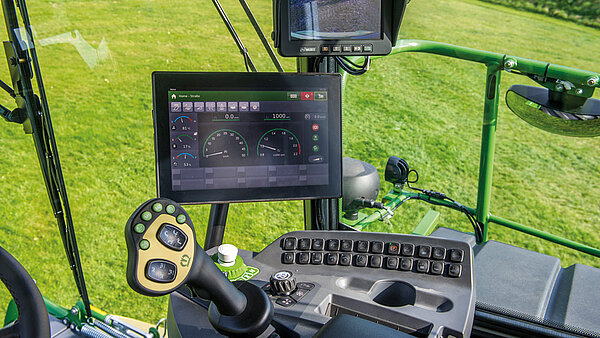 The cabin
Extremely spacious and quiet
Maximum seating and operator comfort
360° panoramic view
Optimum visibility from the raised cab (option)
It takes a comfortable working place to stay fit and alert during those long working days. The spacious Silent Space cab offers such an ideal environment. Providing generous space to the operator and a passenger, it provides a fully air-conditioning and an absolutely functional working place. The exclusive LiftCab offers an unprecedented panoramic view from a height of up to 70 cm.

The KRONE LiftCab
Superb visibility: If the BiG X is specified with a LiftCab, it will be possible to raise the complete cab to any height up 70 cm. From the raised position operators enjoy a full overview of the tall stands and can easily monitor the filling processes. As another advantage, the raised cab increases the distance between the operator and the chopping assemblies thereby reducing the noise level at operator's ear.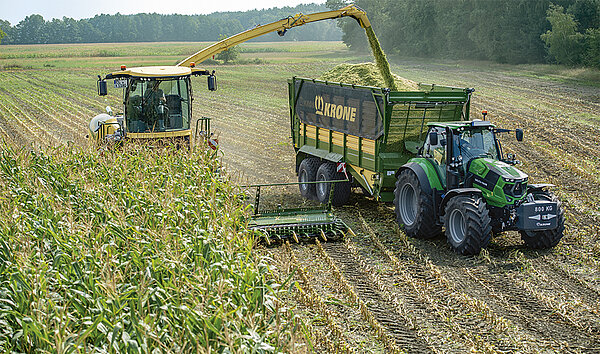 Operator Assist Systems – Electronic helpers on board
AutoScan enables operators to adapt the LOC relative to the current maturity of the crop
ConstantPower ensures optimum fuel economy at maximum throughput
XtraPower increases engine power on demand
EasyLoad supports operators in filling the harvest fleet trailers to capacity
RockProtect protects the forager from damage by stones
Steer with a joystick and enjoy maximum comfort in field work
KRONE offers a range of different systems which help utilise our BiG X forage harvesters to their full potential and ease the strain on the operator. The electronic assist systems supply relevant data on the crop and provide reliable Information in extremely difficult position.
BiG X 680 · 780 · 880 · 980 · 1080 · 1180
BiG X 680
BiG X 780
BiG X 980
BiG X 1180

Engine

Liebherr D 9508
Liebherr D 9508
Liebherr D 9512
Liebherr D 9512

configure

No. of cylinders

8
8
12
12

configure

Engine capacity (l)

16.16
16.16
24.24
24.24

configure

Continuous engine output (kw/hp)

505 / 687
570 / 775
720 / 979
850 / 1156

configure

Max. Continuous X-Power chopping output (kW / hp)

487 / 662
550 / 748
688 / 936
818 / 1112

configure

Max. Continuous Eco-Power chopping output (kW / hp)

368 / 500
368 / 500
441 / 600
441 / 600

configure

configure

configure

configure

configure