LED light for maximum road safety
Compact V-shaped frame with three-point headstock minimises weight shift from the front axle
Prop stand at the rear and wide storage stand at the front pro-vide good stability and raise the wheels from the ground
Stylish light-weight plastic deck in a sloping design for effective self-cleaning
Headland position pre-setting feature avoids tedding the same area twice for optimum wilting
Auto-folding hoop guards maintain maximum agility also in working Position
Main gearbox with overrunning clutch prevents instant rotor stopping
Mechanical or hydraulic damper struts ensure stable rides and optimum spreads
New KRONE OptiTurn tines lift and spread the crop in an ideaal way
Gauge wheels run close to the tines providing exact tine control and optimum forage quality
Product video
Vendro – new KRONE tedder series
We present a new series of KRONE tedders which is badged Vendro. The new range replaces the existing KW range and lines up nine models: two 4-rotor machines (Vendro 470 and Vendro 560), three 6-rotor tedders (Vendro 620, Vendro 680 and Vendro 790), two 8-rotor tedders (Vendro 820 and Vendro 900) and two 10-rotor tedders (Vendro 1020 and Vendro 1120), covering working widths of 4.70m to 11.20m and offering the right solution for any farming needs.
Product video
Vendro T 900 | T 1020 | T 1120 – trailed rotary tedders from KRONE
Discover the latest generation of KRONE's pulled rotary tedder series: the Vendro T 900, T 1020, and T 1120. With working widths of 9m to 11.20m, these machines offer unparalleled performance and efficiency in feed preparation. The design concept of the Vendro series is paired with innovative and proven technology features and unbeatable ease of use, ensuring the highest level of readiness for use, maximum impact and excellent feed quality. Watch the product video now and learn more about the powerful features of the Vendro T 900, T 1020, and T 1120.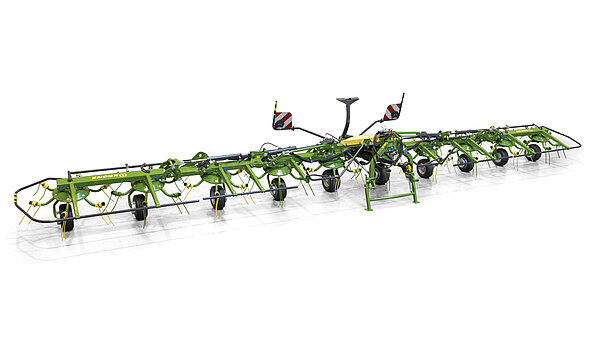 Rotary tedders
LED light for maximum road safety
Compact V-shaped frame with three-point headstock minimises weight shift from the front axle
Prop stand at the rear and wide storage stand at the front pro-vide good stability and raise the wheels from the ground
Stylish light-weight plastic deck in a sloping design for effective self-cleaning
Headland position pre-setting feature avoids tedding the same area twice for optimum wilting
Auto-folding hoop guards maintain maximum agility also in working Position
Main gearbox with overrunning clutch prevents instant rotor stopping
Mechanical or hydraulic damper struts ensure stable rides and optimum spreads
New KRONE OptiTurn tines lift and spread the crop in an ideaal way
Gauge wheels run close to the tines providing exact tine control and optimum forage quality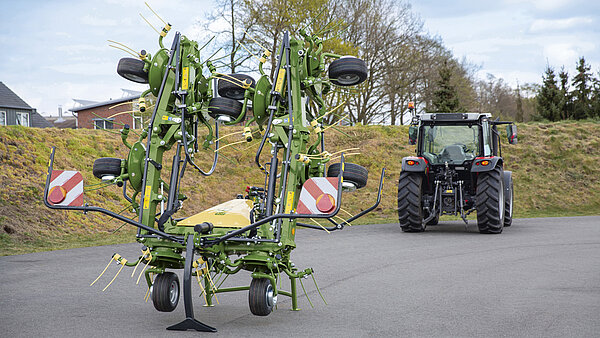 Attachment and storage
Compact frame for close attachment to the three-point linkage
The machine is automatically aligned in the centre when folding into transport Position
Damper struts ensure stable rides behind the tractor
The compact design shifts less weight from the front axle and reduces lift requirement
Special stands at front and rear for safe storage
The KRONE Vendro tedders impress by stable rides and convenient changeovers that are executed from the seat. With the rotors folded down and attachment close to the tractor, the centre of gravity is low and close to the tractor for safe road travel and space-saving storage.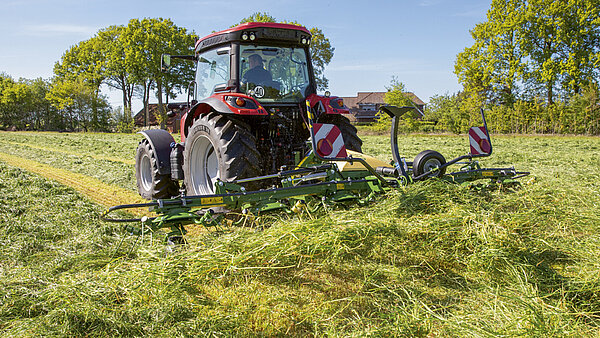 New details in a modern styling
The Vendro tedder stands out for its new styling which reflects of its modern and innovative technical design that features a number of novelties and refinements down to the smallest detail, offering maximum operator comfort and leading to excellent-quality forage.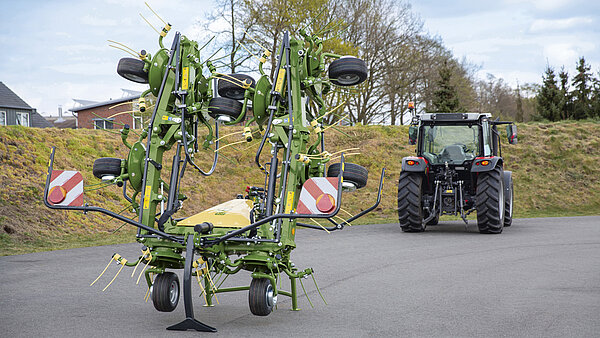 The KRONE OctoLink clutches
KRONE OctoLink finger clutch – eight fingers make frictional Connections
The driveline to the rotors is never cut"
No risk of driveline damage due to operator error
Maintenance-free driveline minimises service and maintenance and maximises lifetime
All Vendro tedders benefit from the tried-and-tested KRONE OctoLink finger clutches. The rugged units require no lubrication at all. This is the kind of dependable and low-maintenance machine you have always wanted.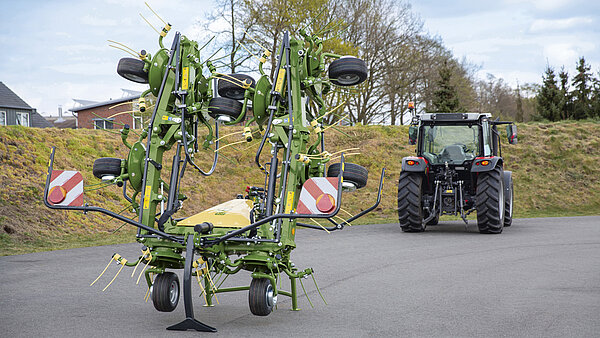 The gearboxes
Standard overrunning clutch in the main gearbox maximises safety when turning off the machine
Rotor gearboxes

Maintenance-free and liquid-grease lubricated
Long service life thanks to permanent lubrication and the cantilevered design

Reduction gearbox produces small night swaths for faster wilting
The KRONE rotary tedders are designed to deliver perfect functionality. Key elements in this context are the main gearbox with a standard overrunning clutch and the maintenance-free and permanently lubricated rotor gearboxes.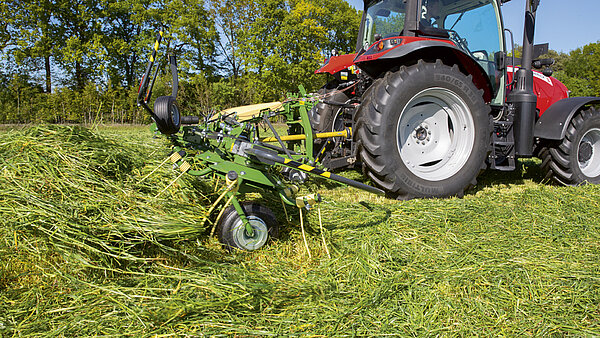 The KRONE OptiTurn rotors
The rotor wheels run extremely close to the rotor providing optimum contouring
Curved 3D tines lift and spread the crop perfectly
Rotors overlap for clean and uniform spreads
Optimum spreads for uniform wilting and highest-quality forage
The KRONE OptiTurn rotor design make real big-time. The special design sees the rotors overlap generously so the KRONE OptiTurn tines can lift the crop cleanly and spread it uniformly at an optimum width for fast wilts and optimum animal feed. This technology boosts your productivity not only in the field but also in the milking parlour.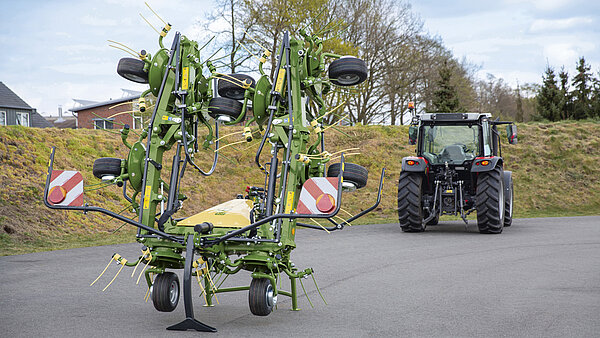 Tyre options on the rotor wheels
"Big flotation tyres for gentle treading and sustained sward protection
"Optimum rotor control for perfect ground hugging and clean forage
"Stable rides behind the tractor also in curved passes
"Anti-wrap guards protect the wheels in long-haulmed crops

Proper tyres are important in forage harvesting. Therefore the KRONE tedders run on oversize flotation tyres that provide accurate control to the rotor, keeping the crop clean and protecting the sward by minimising the ground pressure.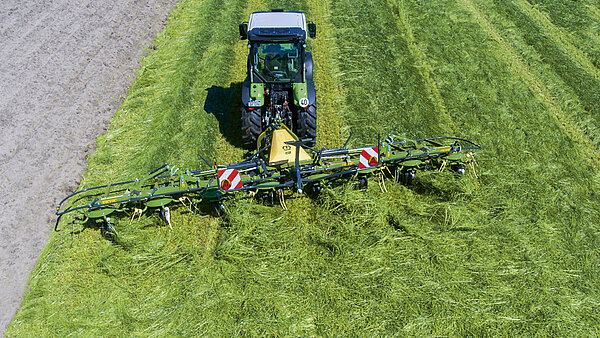 Adjusting the angle of throw
Altering the angle of throw alters the intensity of conditioning
A steep angle controls tedding, a shallow angle controls turning
Easy adjustment to 13°-19° angles without tools
Tedding or turning? Vendro allows you to change from tedding to turning or vice versa at the spur of the moment. Simply change the spreading angle and the crop is conditioned at the required intensity.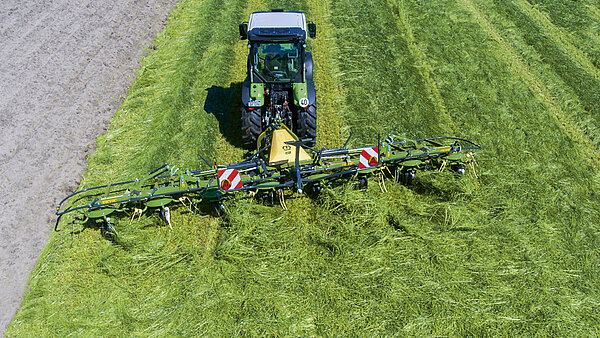 The border spreading facility
Standard border spreading control avoids losses along boundaries
Manual control is standard specification on Vendro 470 to 790
Convenient hydraulic control from the cab is standard specification on Vendro 820 to 1120 and an option on Vendro 470 to 790 models
We would be saving wrong if we wouldn't make border spreading control a standard feature on the Vendro tedders. The system spreads the material towards the middle of the machine when tedding along field boundaries. You either set the mode from a straightforward manual control on the machine or hydraulically from the convenience of the cab.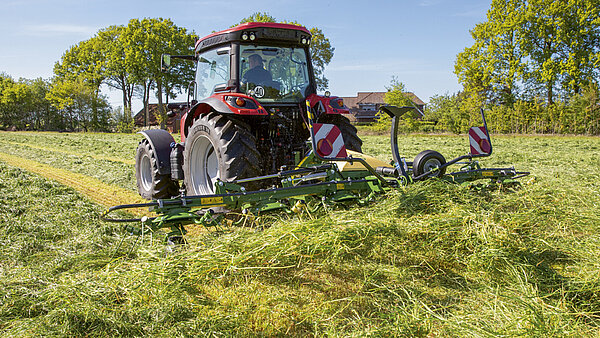 Vendro 470 · 560 · 620 · 680 · 790
Wide range of 4.70 m to 7.90 m work widths to choose from
Mechanical dampers enhance ride comfort and road safety
Standard mechanical border spreading feature for loss-free tedding along boundaries
Headland position pre-setting feature is an option for all models
Optional front-running gauge wheel for perfect ground contouring in heavy going
Looking for a tedder that offers uncompromised tackle for grassland and pastureland and yet treats your crop gently and makes it wilt fast? Then these machines are for you. Even the smaller machines with four or six rotors are high performers both in hay and heavy crops.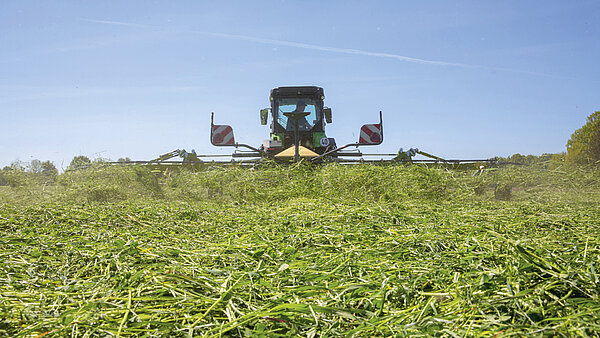 Vendro 820 · 900 · 1020 · 1120
Wide range of 8.20 m to 11.20 m working widths to suit your Needs
Standard hydraulic border spreading Control
Standard headland position pre-setting feature on the 10-rotor models
Big flotation tyres increase ride comfort and reduce compaction
Hydraulic damper struts ensure excellent tracking and road travel without jolting
The 8- and 10-rotor machines offer many ground-friendly features that turn your crop into high-quality forage whilst minimising losses. All major functions are controlled hydraulically for high operator comfort.
Vendro
Vendro 470
Vendro 560
Vendro 620
Vendro 680
Vendro 790
Vendro 820
Vendro 900
Vendro 1020
Vendro 1120

Type of attachment

three-point attachment
three-point attachment
three-point attachment
three-point attachment
three-point attachment
three-point attachment
three-point attachment
three-point attachment
three-point attachment

configure

Working width (m)

4.70
5.60
6.20
6.80
7.90
8.20
9.00
10.20
11.20

configure

No. of rotors

4
4
6
6
6
8
8
10
10

configure

No. of tine arms per rotor

6
7
5
6
7
5
6
5
6

configure

rotor diameter (m)

1.50
1.82
1.37
1.50
1.70
1.37
1.50
1.37
1.50

configure

Input power (kW/hp)

25 / 34
37 / 50
37 / 50
44 / 60
48 / 65
48 / 65
55 / 75
66 / 90
-

configure

configure

configure

configure

configure

configure

configure

configure

configure

configure